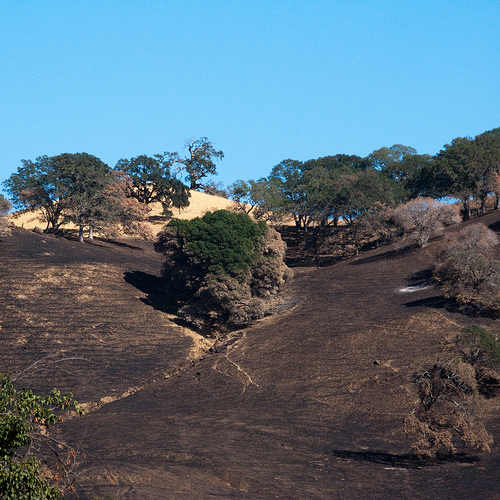 A few weekends ago, we had the pleasure of heading out to Vacaville to help Soul Food Farm rebuild some of the chicken houses that were destroyed in their fire last month. We spent the day in an open-air workshop under the big oaks, working with a dozen or so other volunteers, wielding powertools and hefting coop components to and fro. At lunchtime, we gathered around the farmhouse table and refueled with Soul Food Farm chicken (naturally) and a plethora of side-dishes contributed by friends and neighbors. It felt great to do an honest day's work out in the fresh air — it felt very poignant to be working so hard in the shadow of the blackened hills you see above.
The farm did have insurance, but a high deductible with a lot of exclusions (no coverage for lost income from the chicks that died, nor for the lost pasture, for example) means that Soul Food Farm still desperately needs our help.
I know it's hard in this financial atmosphere to send money off to strangers, however touching their story. So here are some ways to help this weekend that give you something delicious in exchange for your money:
Eat Dinner at Il Cane Rosso: Michelin-star chef Daniel Patterson is holding a fundraiser to benefit the farm at his restaurant Il Cane Rosso on Sunday, October 11. The cost of the three-course menu (served family-style), is $50 per person, including wine but exclusive of tax and gratuity. For reservations, call (415) 391-7599.
Come Party at Pizzaiolo: Tickets for the party this Sunday are sold out, but you can still get in the door — with a complimentary ticket — if you win one of the silent auction prizes (see below). And you want to bid on these great items.
Bid at the Online Auction: I know everyone says their charity auction has great prizes, but seriously folks. Check this out:
Five baby chicks from Soul Food Farm — you want eggs, you'll get 'em!
Tickets to the sold-out City Arts Lecture with Michael Pollan & Wendell Berry,
plus signed copies of all of Pollan's books
A chance to pitch your manuscript to Chronicle Books editorial director
A cheese master-class with Janet Fletcher, author of The Cheese Course
Dinner for two in the kitchen at world-renowned Chez Panisse
Portrait session with Bart Nagel including a retouched headshot
A slot in one of master preservist June Taylor's preserve-making classes
Your choice of four different personal chef dinners and experiences
A suckling pig for your holiday table from Clark Summit Farm
Beautiful artisan-made jewelery, photographic prints, and other works of art
There are tons of other prizes — these are just my very favorites — and many of the coolest ones have no bids yet! So get on over there and win something cool. But don't dally: Bidding closes in less than 24 hours (4 pm Pacific time, Saturday, October 10)
Join the Chicken & Egg CSA: Yep, just like a veggie CSA box, only this one's got protein. Better still, deliveries are just once a month, and you get to pick how many chickens and dozens of eggs you want for each delivery. Drop-off points are available in Emeryville, Bernal Heights/Potrero Hill, Berkeley, and Hayes Valley on alternating weeks. And the prices are a good value, compared with the retail costs of the same items. Oh, and if you donated $25 or more to the Soul Food Farm Fire Fund, they will gladly credit your donation against your CSA fee. How cool is that?!
Soul Food Farm / Alexis and Eric Koefoed
6046 Pleasants Valley Road
Vacaville, CA 95688
(707) 469-0499