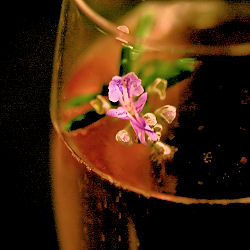 My friend Sam brought us the most fabulous hostess gift: A vintage copy of Robert Vermiere's Cocktails – How to Mix Them. It's a little pocket-sized gem of a book, best known as one of the first sources for the Sidecar. (It's possible Harry MacElhone's ABCs of Mixing Cocktails beat Vermiere to the punch, but both sport a 1922 publication date so I'm content to call it a draw.)
I spent a happy afternoon flipping through the book's age-darkened pages, amusing myself by deciphering the spidery notes in its margins scribbled by some long-ago drinker. It's a treasure trove of possibilities.
Alas, the spirit is willing, but the flesh is weak.
I've had no desire whatsoever to experiment, much less to imbibe. Like nearly everyone else in my area code, I've been slammed by the bug that doctors are calling the Super Cold. I'll spare you the litany of disgusting symptoms and secondary infections, but I feel compelled to brag that I made a nurse say "Eeeww!"
After a trip to the emergency room and enough prescriptions to supply a small pharmacy, I'm finally back among the living. I even managed to have a drink or two last night. But frankly, the idea of tinkering with proportions or doing a lot of in-depth historical research is still making me a little woozy. Luckily, there were enough great bubbly-based drinks flowing at the Cockails and Canapes party that I won't have to leave you in the lurch this week. Here's one of my favorites:
Le Mistral Mauve
1/2oz to 1oz creme de violette
1/2oz rosemary-infused simple syrup, or to taste
Brut Champagne or other dry sparkling wine
Measure the violette and rosemary syrup into a Champagne flute. Top with a dry bubbly, and garnish with a blossoming herb. (We used rosemary, but any pretty sprig will do.)
To make rosemary syrup, measure equal parts water and sugar into a saucepan. Bring to a simmer over medium-low heat, and stir occasionally until sugar is completely dissolved. Add a large bunch of rosemary to the pan, and remove from the heat. Allow the rosemary to steep in the syrup until its flavor is very pronounced. Remove the rosemary, and strain the syrup through a fine sieve (or a coffee filter, if you want to be fancy).
I usually add a fresh sprig of rosemary to the syrup bottle; it reminds me what's inside, and has the side effect of looking rather charming. Flavored syrup keeps in the refrigerator for at least a week. Other drinks that use rosemary syrup include the Gin-Gin Cooler and the Rosemary Five; It's also lovely in sparkling water as a homemade soda.
EDITED TO ADD: If you can't find creme violette in your area, Monin makes a lovely non-alcoholic violet syrup that you can use in its place. Lots of restaurant supply stores sell these syrups, or you can buy them on Amazon.