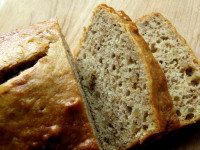 Every cook has those recipes that she considers so perfect that she won't even entertain the idea of trying another variation. In our house, for example, there is no meatloaf but our meatloaf. I'm so set in my ways that not only will I not try new meatloaf recipes, I rarely even order meatloaf at restaurants.
So when, during a long-overdue freezer cleanout, Mom and I discovered a stash of bananas, and then another stash, we knew it was time for another of those "don't bother with another recipe" recipes: Banana bread.
Now, with all modesty, I'm not the only one who loves this stuff. It's a recipe so wonderful that it was printed — albeit with some non-fatal editorial alterations — by Cooking Light many years ago, and apparently remains a reader favorite. (I cringed in anticipation when I clicked on the reader comments link, and was amazed to see that everyone likes this recipe as much as we do. Whew!)
Here's my introduction from the original issue:
My mom, Toni, has been making this banana bread for what seems like forever. We're nuts about all kinds of bread, and this is a family favorite — even the dog loves it. While it may seem odd not to add spices, the pure banana flavor is what makes it so delicious.
You can find the tinkered-with version on Cooking Light's site, but here's the original, which isn't really much higher in fat:
Toni's Banana Bread
1-3/4 cups flour
3/4 tsp. baking soda
1-1/4 tsp. cream of tartar
1/2 tsp. salt
1/3 cup vegetable oil
2 eggs, lightly beaten
2 medium super-ripe bananas (about 1 cup)
scant 2/3 cup sugar
1/2 cup chopped walnuts (optional)
Preheat oven to 350F, and butter an 8×4 loaf pan (or two 7×3 pans for tea-size loaves).
Whisk dry ingredients together in a large mixing bowl, and set aside.
Put the remaining ingredients (except optional nuts) in a blender and puree until smooth. Pour the banana puree over the dry ingredients, and fold lightly — adding nuts, if using – with a rubber spatula, just until combined; do not overmix.
Pour batter into the buttered loaf pan. Bake for 40 minutes or until a cake tester inserted in the center comes out clean, but do not overbake. Cool for 10 minutes in the pan, then remove from pan and cool completely on a wire rack.