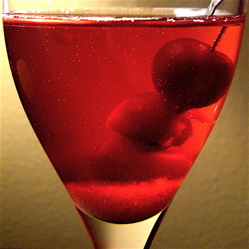 It seems like all of the hip kids are doing it: Tossing out their radioactive-looking cocktail cherries in favor of home-steeped alternatives. Hell, even the New York Times jumped on the bandwagon in this week's food section — a sure sign that a trend has hit the mainstream.
For those of us in the Bay Area, the wave is breaking a touch too late. The cherries at the farmers markets are pretty darned ripe, not to mention enormous… far from ideal specimens when it comes to their intended task. But, if you get a wiggle on, you just might find a few last baskets of not-overripe cherries this weekend. (If they're huge, you can always halve them.)
Making your own maraschino cherries is as simple as pitting a pint of cherries (or not, if you're a pit-loving purist), and letting them steep in enough warmed Maraschino liqueur to cover them well. They're pretty good right out of the pan, but leaving them a few days in the fridge is well worth the wait. If you prefer brandy's woodsy overtones to the fruit-meets-nuts essence of the traditional liquor, then feel free to make that very acceptable substitution. If you go that route, you may want to add some sugar to the pan when warming your steeping liquor, but it's certainly not necessary.
Even easier still — and a perfect option when cherry season is but a memory — is the method we've been using for the last year or so: Simply soak dried cherries in moderately decent brandy until they're rehydrated. Or, head to the gourmet grocer: The fresh-brandied La Parisienne cherries sold in small containers at the Whole Foods deli counter are quite nice, and some of our Seattle friends swear by the preserved maraska cherries they buy at a local import store.
In short, there's really no excuse for choosing a zombie cherry.
The non-neon model is, of course, the perfect garnish for your everyday Manhattans and what have you. But if you'd like to bring its cherri-licious essence to the fore, you might prefer a cocktail like this little number featured a few months ago in Food & Wine's 2007 cocktail preview. I've dispensed with the original's sugared rim, but feel free to add it back if your palate runs to the sweet side.
Marasca Fizz
3 true Maraschino cherries
1/4 oz cherry-steeping liquid
(use half simple syrup for unsweetened brandied cherries)
2 brown sugar cubes
3 dashes Angostura bitters
1/2 ounce Cherry Heering
4 oz chilled sparkling wine
Put the sugar cubes in a Champagne flute. Add the Angostura, Cherry Heering, cherries and cherry liquid; top with the bubbly and serve.