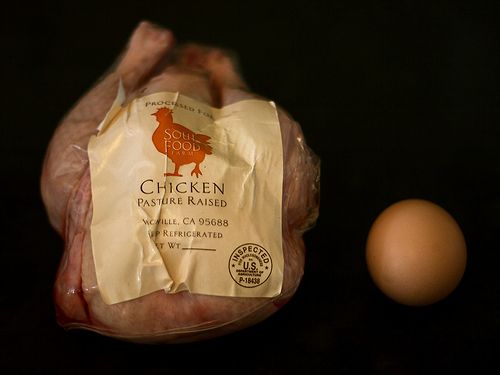 Sorry it's been a little quiet around here. We've experienced some technical difficulties, but mostly we've just been busy, happily squeezing a lot of fun into a low-budget summer.
But as lovely as our summer was, the last few weeks have been rough for some of our nearest friends. Too many have said goodbyes to family members and beloved pets, and we're feeling all the more thankful for the many blessings in our own lives.
A little further afield, last week brought a nightmare to one of our favorite local food suppliers. Soul Food Farm — home to our favorite pastured chickens and one of our regular sources of pastured eggs — was hit by a devastating fire in the middle of the night. Despite heroic efforts by farmers Alexis and Eric Koefoed (and their family and neighbors), they lost so much:
Two chicken houses caught on fire, and we lost 1,000 baby chicks. Trapped. Our old 1880s barn burned and it was almost too much at that moment. Thirty acres of pasture for the meat birds is gone and several old beautiful oaks, all the old plum trees that were our connection to the original homesteaders.
I know times are tight for so many, so I hesitate to ask you for help. But I also know — from the fabulous response we've had to Menu for Hope each year — there are many generous folks out there. If your finances allow, consider one of the following:
Donate directly to the Soul Food Farm recovery effort via Pay Pal.
Buy tickets for the raffle that Bi-Rite Market is holding.
Reserve a seat at one of the upcoming benefit dinners.
If you can't afford the extra expense of donation, there are other ways to help:
Join the Soul Food Farm chicken-and-egg CSA, which is starting soon.
Your membership fees will help give the farm much-needed cash flow.
Volunteer for one of the upcoming farm work-days to help rebuild.
If you're not particularly handy, there will be some non-construction chores.
Consider shifting your chicken and egg purchases to Soul Food's products.
Prather Ranch sells both items; check the SFF site for more outlets.
(Updated 9/15: Added a link above to Eater SF's roundup post on the benefit dinners)