This post is the third of 12 installments in the Dinner on a Deadline series, a project designed to help you get thoughtful meals on the table quickly without resorting to processed convenience foods. Each week features homework to help you put the lessons into action, plus a sample recipe to show how we use the week's tips in real life.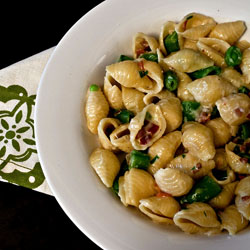 There are entire books (and at least one blog) devoted to the idea that recipes are the problem, not the solution. Rather than cheerful assistants, the theory goes, recipes can be tyrannical oppressors, stifling creativity and causing culinary heartache.
Though I'd never go that far myself — my cookbooks and recipe binders are a source of wonderful inspiration, and a great resource for those rare days when I have plenty of time to spend in the kitchen — I definitely see the value of dispensing with recipes for many everyday meals.
When it comes to no-recipes meals, there are plenty of old standbys. On Twitter, I asked what readers like to make when they cook without recipes. Nearly everyone named at least one dish that falls into the category our friends Sean and DPaul call leftovers velcro: Omelettes and frittatas filled with bits of cheese and herbs, a chef's salad with cold roast chicken and a few crumbles of bleu cheese, hearty soups made from stock and the assorted contents of the vegetable bin.
All of these are good, simple meals, and I love them because creative re-use is both easy on the wallet and environmentally fabulous. But cooking without recipes can be much more than just a way to clear out your fridge. It's a way of thinking about ingredients that gives you basic formulas for easy suppers, and a platform for improvising even as you plan. If you stock your pantry well, you can combine protein, starch, and seasonal vegetables in dozens of ways.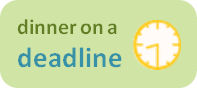 Here's one example that makes use of our favorite pasta + pork + greens trinity: Simmer pasta of your choice. Meanwhile, sauté sausage, bacon, ham, or ground pork; remove the cooked meat with a slotted spoon. Using the same skillet, sauté a clove or two of minced garlic in the rendered fat from the meat; add legumes or greens (examples: shredded kale, chopped broccoli raab, sliced sugar-snap peas, cooked cannellini) and sauté until tender, adding a little stock or water to steam the firmer items. When the pasta's done, toss everything together, adding a splash of stock or cream. Sprinkle with herbs and/or Parmesan cheese and you're good to go. (Two favorite variations on this theme include Orecchiete with Broccoli di Ciccio and Italian sausage, and Pasta e Fagioli with 'Nduja.)
This method also works great with international flavors. For an Asian-style meal, sauté a quick-marinated protein (sliced meat, shrimp, or tofu tossed with soy sauce, sherry, sesame oil, and a bit of cornstarch) in peanut oil; remove with a slotted spoon. Sauté garlic and greens (such as long beans, bok choy, spinach) until tender. Stir in a regionally appropriate flavor enhancer (like curry paste, oyster sauce, chili-garlic sauce), then add the meat back into the pan and heat through; serve over rice or noodles. If you prefer a Tex-Mex variation, you can make fajitas: Grill or sauté chicken or steak strips, add sauteed peppers and onions, and serve with tortillas. Once you have the basics down, the variations are only limited by your imagination and the depth of your pantry.
This week's homework
No-recipe novices: Plan at least two meals for the upcoming week, including at least one no-recipe dinner. Make use of your newly organized pantry staples.
Extra for experts: Take one of your existing no-recipe meals and adapt it into something new. For example: If you usually use pasta as the base, turn it into a stir-fry over rice. Or, add an ethnic twist, use a different protein, or make some other modification that will push your creativity.
This week's recipe
I realize that this goes entirely against the spirit of the lesson, giving you a real recipe with measurements and timing. But for anyone new to the no-recipes concept, it's useful to see how it works. After you've done it a few times, you'll be able to come up with your own variations, judging quantities and timing by eye.
We made this dish — a Food 52 category winner — for a midweek supper with our friend Meriko; we liked it so much we had it again this week. (The fact that we've got a bumper crop of sugar-snap peas helps, too.) The second time around, we were out of mint and low on cream, so we swapped in some parsley and chicken stock; we liked the fresher end result even better. Feel free to make your own substitutions depending on what you have on hand or what strikes your fancy.
Creamy Pasta with Prosciutto and Snap Peas
- adapted from Food 52
For each 3 servings; multiply as needed
6 to 8oz dry shaped pasta (preferrably shells, orechiette, or other cup-shaped pasta)
2 cloves garlic, minced
1-1/2 T olive oil
2oz prosciutto, lonza, or country ham, thickly sliced (1/4-inch minimum) then minced
2 small shallots, minced
1/2 cup cream
1/2 cup unsalted stock
1/4 cup freshly grated Parmesan, plus more for the table
1/4 pound fresh sugar-snap peas, chopped into 1/2-inch pieces
2T to 1/4 cup minced fresh flat-leaf parsley
salt and freshly ground pepper
In a large saucepan, bring salted pasta water to a boil while prepping the various ingredients. (If it comes to a boil before you're ready, cover and reduce heat to low.) When everything is ready to go, add the pasta to the boiling water.
In a heavy skillet, heat the olive oil over medium heat. When shimmering, add the garlic and cook until just softened. Add the minced prosciutto and cook for an additional 3 to 4 minutes. Add the shallots; continue cooking until softened. If at any point the garlic or shallots start to brown, add a splash of water and/or turn down the heat. When cooked through, season to taste with salt and freshly ground black pepper. (Amounts will vary greatly depending on how salty your pork is.) If there are more than 3 minutes left on the pasta timer, reduce the skillet heat to low, or remove the pan from heat, depending on how long you have left.
When your pasta is about 3 minutes away from being done, add the peas to the proscuitto mixture and cook for 2 minutes over medium heat, until just tender. With one minute remaining, raise the heat to high; add the cream and stock, and bring to a boil while stirring. Add the Parmesan, stir to combine, and reduce the heat to low.
Drain the pasta, and add to the sauce; toss to coat. If the sauce is loose, simmer over medium-high heat until it coats the pasta. Sprinkle liberally with fresh herbs, and serve with black pepper and extra Parmesan.