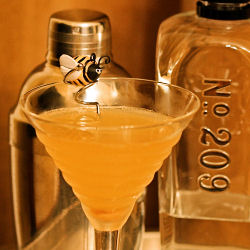 Last weekend, Cameron and I spent the better part of our monthly cocktail budget on a pair of tickets to the Independent Spirits Fest. Although my mom thought it sounded like the kind of groovy gig where you'd follow your bliss, it's actually a trade show for distillers who aren't aligned with any of the booze juggernauts.
One of the best Fest perks was the opportunity to taste a number of liquors you can't easily put your hands on, either because they're too rare (often combined with "too pricey"), or too new to find in stores. With more than 30 exhibitors filling two small conference halls, we decided to focus on those near to our heart: Folks making booze in Northern California.
Between us, we tasted 20+ locally-produced items from a dozen different producers over the course of the evening. (Don't worry: Most ended up in the spit bucket, and we took a cab home.) Some names you'd recognize from the shelf of your local bar, like Junipero gin and Hangar One vodka. But many new-to-us discoveries — like St. George's lovely single malt, a bierschanaps made in Mountain View, and Charbay's haunting pastis — were almost worth the cost of admission.
Best of all, it was a treat to find so many liquors produced within 100 miles of our home bar. Of the major booze families, I think we're really only lacking a local American-style whiskey (one's coming soon from Pioneer Spirits in Chico, with any luck) and a tequila equivalent, which can only be a matter of time given the mezcal explosion and the Bay Area's love affair with agave.
But even after Wednesday's Dark Days post, I can't say that we're going totally loca-boire. I think it's safe to say, however, given the diversity of what we found — gin, whisky, rum, vodka, brandies, eaux de vie, liqueurs of all sorts — you'll start seeing a lot more local products on our shelf, and on the blog.
—-
But on to this week's drink: I'd been playing with honey drinks for a while, but it wasn't until I sat down with my brand-new (to me) copy of David Embury's classic The Fine Art of Mixing Drinks that I found one that really appealed to my tastes. Early in the book, Embury holds forth on the dark days of Prohibition and the birth of a number of "pernicious" cocktails, including a concoction christened the Bee's Knees — equal parts honey, lemon, and gin. Thankfully, the days of bathtub gin are long behind us, and the modern version of the drink (which Embury endorses in later chapters) calls for saner proportions.
The glorious thing about the Bee's Knees — which fully lives up to its name — is that it's another one of those drinks you can easily make with ingredients you keep around the house. And, if you're lucky like us, even with ingredients grown or distilled within a few miles of home. Careful observers will note it's a close relative of the Whiskey Sour, and it shares that drink's easygoing ways.
Although they weren't exhibiting at the Fest, our favorite white liquor these days is sassy 209 Gin, distilled along the San Francisco waterfront at Pier 50 (a full 6 miles from our door, if you're counting). It's a lovely, mixable spirit, well-balanced but spunky.
The honey we get from Meeks' in Soquel (72 miles) is fairly solid stuff. To bring it to a spreadable consistency, we usually warm the jar in a small saucepan of water. Alas, that's not such a clever idea when mixing drinks: Hot honey isn't exactly conducive to a crisp and cool cocktail, and it seizes back up as soon as it hits the ice. The problem's easily remedied by using honey syrup: Heat equal parts honey and water in a pan, stir until dissolved, then pour into a bottle for storage (in the fridge, please).
Last but not least, there's lemon juice. Although local honeybees are big fans of our backyard Meyer lemon tree, its current crop of fruit isn't quite ripe. Luckily, a number of the farmers at the Ferry Building market keep us well supplied with Eureka lemons. In a few weeks, when our lemons turn yellow at last, this drink'll get about as local as can bee.
Bee's Knees
2 oz dry gin
1 oz lemon juice
1 oz honey syrup
Shake all ingredients with ice, and strain into a chilled cocktail glass.
———-
Drink of the Week, 1 Year Ago: Moscow Mule