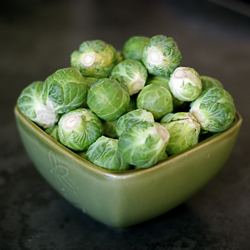 So many variables factor into the bounty of the Bay Area's foodshed: The density and affluence of our population creates a bumper crop of food-obsessed consumers, our progressive social milieu fosters an interest in sustainability, and the richness of our restaurant scene rewards ambitious farmers.
But underneath all that is the inescapable fact that we live in one of the most fertile food-growing regions in the country. Add to that an eye-crossing number of microclimates, and the result is an astounding variety of warm-weather crops from just-spring to deep autumn. Even in winter, our markets offer an almost unbelievable abundance.
I know that most other regions don't have it so easy; reading the seasonal posts of other food bloggers brings that fact home. Eating locally, especially year-round, can be a struggle for even the most dedicated fanatic. In most areas, the first frost pretty much spells doom for the locavore agenda, save for home-preserved harvests, hardy winter crops, and often-pricey meats and cheeses.
So when I read on the Eat Local Challenge blog that an autumn-into-winter locavore event was afoot, I had to check it out. Laura — who writes a charming blog called Urban Hennery out of Everett, Washington — is blogging her latest experiment: Feeding herself, her husband, and her friends on local foods throughout the remainder of the year. She's challenged anyone interested to join her, christening the event the Dark Days Challenge.
I signed on with Laura without giving the idea much thought… without realizing that this snap decision means we're going to become a lot more candid about the choices we're making when we shop. This isn't just a one-week flirtation with locavore exhibitionism, as we've done before. But I know we can do it because it's what we've been doing pretty much all summer long, on the sly. And, honestly? Not doing it here — in what must be the easiest place in the country to attempt this challenge — would feel churlish.
My name's Anita, and I'm …a locavore. There, I said it.
All joking aside, I've been bashful of talking about what we're doing, mostly because I am leery of sounding sanctimonious or self-congratulatory. Food choices are incredibly personal, and if you have strong opinions about what you eat and why, it can be hard to talk about them without seeming snobbish. Or condescending. Or egotistical. Or just vain.
So, in order to salve my fears, I'll say this and then trust that you'll give us the benefit of the doubt: Eating sustainable, local, and organic food whenever possible is important to us. But by sharing what we're doing, we are in no way condemning anyone else's choice.
Enough of that, and full speed ahead. We're on this bandwagon for the full ride. Expect to hear about our locavore adventures — the triumphs and the challenges, as Laura says — throughout the fall. We'll continue to eat as locally as we can as often as we can, and write about it at least once a week until New Year's Day.
Laura has encouraged her Dark Days cohorts to modify the house rules to suit their circumstances. Based on our experience in past challenges, we've held ourselves to a harder line with some items (like produce miles) and taken a more realistic approach to others (like carbs). Here's our general game-plan:
We will continue to cook locally as often as we can, with a baseline of two dinners per week made from 90% local ingredients.
We will write about at least two meals a week made with as many local ingredients as we can source.
Local for us will be a 100-mile radius for produce and a 200-mile radius for protein. Strong preference will be given to items purchased direct at the farmers market rather than retail.
We're making the usual 'Marco Polo' exemptions for seasonings. We're also making exceptions for flour, dried pasta, white rice, and polenta — we have no local sources of these ingredients, and man does not live by potatoes and bread alone. We will try to source baking ingredients locally, but I don't expect to find much beyond nuts, and I won't go through the holidays without baking.
We'll try to limit processed foods to those produced within a 50-mile radius. We'll try to determine how much local ingredient sourcing they're doing, and talk about it in our posts.
We'll continue with the challenge through the end of the year, and then re-evaluate on New Year's Day along with other participants.