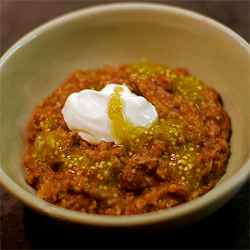 There's something about the frugal pleasure of creating something out of nothing that appeals to my inner home economist. There's a touch of puritanical redemption in there, too: Making use of every last scrap atones for the pleasure we take spending chunks of our income on fabulous food.
For the most part I'm not a fan of the usual sort of leftovers, reheating the same old meal for to live another day. (Fret not: I make exception for cold spaghetti, reheated enchiladas, and the glorious day-after-Thanksgiving mishmash). But what I love so dearly is a well-planned, or even well-improvised, creative reuse.
The last few nights, we've had dinners built on the skeletons of our weekend feasts. Tuesday night, we sauteed a pile of onions in bacon grease, then added the leftover pancetta-laced beans from Saturday's supper, mashing them together to make a fabulously porky pan of frijoles refritos. Dressed with a dollop of thick crema and a swirl of homemade tomatillo salsa, they made an ample accompaniment to Prather Ranch skirt-steak tacos. (In an ironic twist, the beans were so filling that we ended up with leftover meat, which in turn became this morning's steak-and-eggs breakfast.)
Tonight, we transformed the shredded meat left over from Sunday's roast chicken into a tasty riff on chicken pot pie. Starting with a Barefoot Contessa recipe adapted by Smitten Kitchen, we took many liberties with substitutions: Golden sauteed mushroom chunks in place of pearl onions, simmered-down stock replacing bouillon, and shepherd's-pie-style mashed potatoes on top in lieu of a pastry crust. We also managed to tidy up the crisper in the process, dispatching some baby carrots and snap peas that were just a touch too feeble for our usual pan-braising method. It was a deliciously decadent meal, and the ingredients were virtually free.