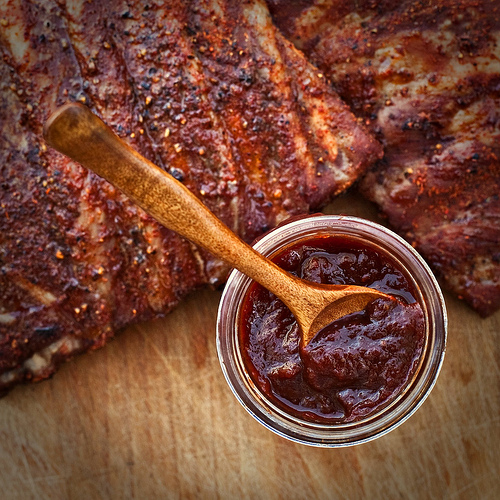 Kaela at Local Kitchen chose chile peppers as this month's CanJam theme. Salsa seems the obvious choice, but having just put up an amazing fire-roasted salsa negra less than two months ago, our pantry was already fixed for Mexican sauces. We don't use many pickled peppers, and we've already got many jars of our favorite tomatillo-based salsa verde put up for the fall.
Flipping through my favorite canning books, I found a few likely candidates in the hot-pepper genre. But too many of these used chiles as a grace note rather than an actual main ingredient — and I wanted the chiles' flavor to play a starring role. In the end, our bountiful supply of (finally!) ripe tomatoes tipped the scales toward this barbecue sauce; finding fresh Fresno chiles in our Mariquita Farm mystery box clinched it.
Unlike the sorts of fancy regional-style barbecue sauces I like to make for most of the meats that come out of our smoker, this recipe yields a spicy variation on straight-up all-American BBQ sauce. Cameron described it as "like the stuff you'd get out of a bottle, but really really good." And he's right; there's a familiar tangy sweetness, intensified by the slow burn that comes from a triple dose of chile — fresh, dried, and ground.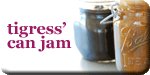 Ancho Chile Barbecue Sauce
- adapted from Blue Ribbon Preserves
4 quarts peeled, cored, and chopped ripe tomatoes
2 cups chopped onion
1-1/2 cups seeded, de-ribbed, and chopped red bell peppers
1 cup chopped celery
4 fresh hot red chile peppers, such as Fresnos, seeded and finely chopped
2 to 4 dried ancho chile peppers, stemmed and seeded
3 cloves garlic, minced
8 whole black peppercorns
1-1/4 cups firmly packed dark brown sugar
1 cup red wine vinegar
1/2 cup barley malt syrup (or dark corn syrup)
2 tsp kosher salt
2 tsp dry mustard
1 tsp hot red pepper sauce (Tabasco-style)
1/2 tsp ground ancho or red chile, or to taste
Prepare canner, lids, and seven 8-oz jars according to the usual method; keep jars hot until needed.
Toast the dried chiles in a skillet, pressing down gently to flatten and soften, just until they become pliable and fragrant.
Combine the tomatoes, onions, bell peppers,  celery, fresh chiles, toasted dried chiles, and garlic in a large, wide Dutch oven. Bring the mixture to a boil over medium heat, stirring to prevent scorching. Reduce heat and simmer until the vegetables are soft and the tomatoes broken down, about 30 minutes, stirring frequently. Remove the pan from the heat.
Press the mixture through a food mill or a sieve — don't use a blender or food processor here, because you don't want to introduce air into the mixture. Return the sauce to the pan and simmer, stirring occasionally, until the mixture is reduced by half and will mound up gently on a spoon, about 45 minutes to an hour.
Tie the peppercorns in a spice bag or tea infusion ball, and add it to the mixture in the pan. Add the brown sugar, wine vinegar, malt syrup, salt, paprika, mustard, hot sauce, and ground red chile to the tomato mixture, stirring well after each addition. Simmer gently for 1-1/2 hours, or until the mixture is the consistency of ketchup. You will need to stir more frequently as the sauce thickens, to prevent scorching. Remove the pan from the heat and discard the spice bag. Taste and add additional ground red chile if desired.
Using a stainless-steel canning funnel, ladle the sauce into hot jars, leaving 1/2-inch headspace. Remove air bubbles using a plastic knife or chopstick, and readjust headspace as needed. Wipe jar rims with a clean, damp cloth and center the hot lids on jars. Screw band to fingertip-tight.
Place jars in canner, ensuring they are completely submerged. Bring to a boil and process covered for 15 minutes. Remove canner lid; wait 5 minutes, then remove jars. Cool, check for seals, and store in a cool, dark place for up to a year.