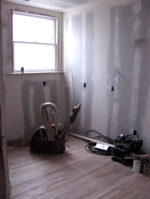 It's been an entire month since the kitchen-remodel kickoff meeting, so I thought I'd share our progress so far. We're very pleased with the work that's being done, and — as you can see from the photo — things are moving along quickly. We may even be done by the end of the month!
We've had a few course corrections recently, most notably one that cropped up due to our inability to find the perfect cork floor (compounded by concerns about how cork holds up to dog toenails), which led us to choose wood floors to match the rest of the house. It's a classic blessing in disguise, as this choice had the double benefit of making our contractor happy and leading to a gorgeous end result.
Another design change: Our contractor is going to make a built-in bench for the breakfast room, a development that makes me inexplicably giddy. There's something magical about a booth (or, in this case, a half-booth) in an old cottage kitchen. And ours will look out a gorgeous pair of French doors onto our deck and the view beyond. Our poor dining room may end up feeling quite neglected!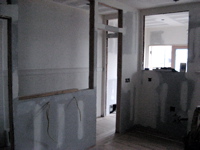 Since the last update, the following items have been added to the kitchen: Insulation, wiring, plumbing (gas and water), ducting for the range hood, drywall, a level floor in the breakfast room, pocket doors, French doors, and (ta-dah!) wood flooring.
Still to come: Cabinets (arriving today — wow! — though they likely will rest in the living room for a bit), paint, millwork/trim, appliances (sitting in the warehouse and scheduled for 2/15 delivery), countertops, sink, final plumbing and electrical hookups. Lights are on order, the sink and faucet are waiting in the basement, and the wood floors will be sanded today, possibly with the first varnish coat.
Hungry for more? Here's a mini-tour of how the new kitchen looks today, and another showing a few of the things we've made in the "camp kitchen" downstairs.