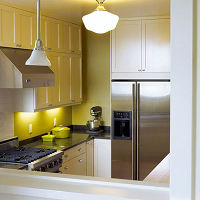 I know it's been months, literally, since I told you we were almost done, and promised an update soon. And truth be told, it did take a lot longer to nail down the last details than we expected. Just over a month ago, I wrote to family and friends, telling them we were done, at long last:
"Every item on the punch list is crossed off. The permits are all final-ed. The kitchen countertops are securely affixed to the cabinets. The new sidewalk — and driveway, and drain — is in place."
Sidewalk? Driveway? Huh? I thought this was a kitchen remodel?
Yeah, well… long story short: When the city came out to 'final' the permits for the kitchen, the inspector noticed that our sidewalk wasn't quite level. Now, almost every driveway in San Francisco leaves a little divot in the sidewalk, to allow cars access to below-ground garages. They're not (usually) a serious detriment to public safety, and our gradual, 2-inch slope definitely didn't pose a hazard. But the planning department, lord love them, have decided they need a new source of income. (According to a Realtor friend, this sort of thing is happening all over town.) So even though our sidewalk wasn't any worse — and in fact was much better — than most of our neighbors', our kitchen permit gave the city an excuse to hunt for anything else they could find to generate some cash. Nice, eh?
Of course, there's always a silver lining: We got a smooth new driveway out of the deal, complete with a much-needed trench drain to keep water from running into the garage. During excavation, it became obvious that installing said drain meant moving — and thus, replacing — an 80-year-old water-supply pipe. Oh, boy! More money flying out of my purse! Still, it needed to be done: One look at that photo and you can guess that our water pressure is vastly improved, not to mention that our tap water is a lot less crusty. Bleh!
But back to the kitchen: After an escalating six-week stream of coaxing, cajoling, criticizing, and (ultimately) crying, our contractor harrumphed back and deigned to wrap up the punch list. Cabinet knobs at last! No more sagging utensil drawers! Oh, the joy.
We've been so busy cooking and entertaining that we haven't have much time for food blogging, much less documenting the last remodel steps. Luckily, our architect, the affable and talented Andrew Mann, spurred us to action by stopping by to take some portfolio shots. Late last week, he sent us the proofs… and, wow. I mean, I knew how gorgeous our kitchen was, but seeing it through the eyes of a professional artist makes a world of difference. I got a little teary-eyed looking at the photos and forgot, at least for a moment, about how painful the last months of construction had been. In my wildest dreams, I would never have thought we'd live and cook in a magazine-worthy kitchen, but there it is.
Inevitably, we still have a few items to tackle, more in the scope of decorating than real remodeling. Since we can't afford the sort of narrow Parisian bistro table we covet for the breakfast room, we bought a temporary placeholder. (Although party guests complimented its DWR-esque looks over the weekend, and our housekeeper chased us down just to tell us it was 'perfect', so maybe it has an appeal we're not seeing!) We still need to make cushions for the breakfast bench, and order the window coverings… morning sun is brutal at this time of year.
But really, there's no denying it: The kitchen's done. Ta-dah!






photos courtesy Andrew Mann Architecture and Joseph De Leo Photography