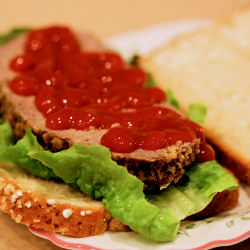 You learn the darndest things when you blog.
Here's just one example: Until a few days ago, I never knew that one of my all-time favorite foods was so widely appreciated. I mean, I knew meatloaf sandwiches were something other people ate, but I had no idea they loved them as much as I do.
That is, until the day I posted this photo on Flickr and the comments started rolling in:
"One of the best uses of leftovers of all time."
"Nothing better [than a meatloaf sandwich]."
I'm right there with them. I may love meatloaf sandwiches even more than I like the original meatloaf dinner. Which is impressive, considering my adoration for baked potatoes knows no bounds.
For those of us in the meatloaf-sandwich-lovers clique, there's no need to wait for a special occasion to celebrate. But in case you're seeking an excuse, Serious Eats declared this Thursday National Meatloaf Appreciation Day, and we're all invited to play along.
Don't tell me that you don't have a prized family recipe to bring to the party? Oh, you poor thing. Here… pull yourself together. Sit down and let me give you a copy of ours.
But first, a few caveats:
Our family meatloaf is a bit of an anomaly. It doesn't come topped with pan gravy, or even a tomatoey glaze. (Although Heinz ketchup is a mandatory condiment, as far as I'm concerned, it's absent from the cooked dish.) This recipe also eschews breadcrumbs as a binder; Quaker Oats serves that purpose. An unorthodox choice, to be sure, but the end result is less bizarre than you might expect.
In place of the usual middle-American seasonings, our meatloaf features some strange-sounding spices. Happily for any purists among us, they fly under the radar, adding their warmth without making anyone think of an oatmeal cookie. Perhaps the biggest heresy of all: This meatloaf isn't baked, or even shaped, in a loaf pan. Sporting the freeform curves of a football (make that 'rugby ball' outside the US), our odd-shaped loaf maximizes the crusty edges our family covets.
And because the resulting slices are just a teeny bit wider than the average piece of bread, the elliptical shape yields some delicious trimmings — perfect nibbles during the next day's sandwich-making activities. Lucky you.

Mom's Meatloaf
1-1/2 pounds ground chuck
1/2 pound pork breakfast sausage
1 onion, grated
1 egg
1 cup uncooked oatmeal (not instant)
1/4 cup milk
1 tsp salt
1/4 tsp ground black pepper
1/2 tsp nutmeg
1/2 tsp allspice
Preheat oven to 350°F. Combine all ingredients in a large bowl until well mixed. Pat into a football shape and place in a wide baking dish or a small roasting pan. Bake for 75 minutes, or until juices run clear when the center is pierced with a knife.