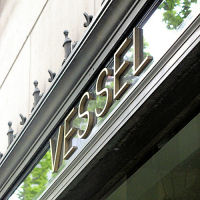 Damn you, Seattle. How can a small city have such an enviable concentration of great watering holes? San Francisco may have a cocktail scene, but so few of our places — especially the ones that turn up on those maddening "best cocktails" lists — are actually worthy of their hype. And yet, inconceivably, Seattle is now home to not one but two drinking establishments that make me want spend every summer weekend in the land of 10pm sunsets.
I never thought any other Seattle bar would turn my head so long as the Zig Zag Cafe served liquor and Murray Stenson tended bar, but now… hang it all, now there's Vessel, too. Where Zig Zag is cozy, Vessel is swanky. Contrasting all the ways that the Zig Zag crew embodies unpretentious craftsmanship, Vessel's staff leans toward the amusingly purist. (Shall we cheer or sneer at phrases like "juniper- and citrus-infused vodka" used to woo gin-phobic drinkers?)
Just like in my dreams, Zig Zag bathes in rose-tinted shadows; Vessel goes for the green with a vengeance. Where Zig Zag settles in for the night in warm woods and textured concrete, Vessel puts itself right on display with walls of glass, dark metal accents, and Philippe Starck chairs. The almost-windowless Zig Zag feels sultrily subterranean, whereas Vessel's mezzanines and vitrines perch you high among Fifth Avenue's glowing treetops.
And yet, both establishments converge in the expected place: An unwavering commitment to classic and creative cocktails. One early Saturday evening, a single bartender and waitress kept pace with the steady libational needs of our crew of eight (nearly all serious drinkers and drink-makers), putting together bullseye-solid renditions of drinks from their own menu — a pleasant mix of old standbys and original creations — plus more than a couple of tricky off-list requests from the peanut gallery.
For such an unrepentantly contemporary space, Vessel manages to be cozy and comfortable. Within the 1920s-era Skinner Building's gorgeous old bones, a hive of brightly colored walls, modern furniture, and architectural lighting comes together to create an environment that wouldn't feel out of place in a European capital. And in lieu of the usual V-stem cocktail glasses, Vessel serves its shaken-and-stirred drinks in gorgeous crystal champagne coupes. (Maddeningly, they're from a Speigelau line that's unavailable here. Any readers abroad want to buy us a case and trade for something you can't get locally?)
Order the house cocktail, dubbed Vessel 75 — not an homage to the same-numbered gin-and-Champagne drink, but a nod to the last warcraft constructed in Seattle's shipbuilding heyday — and you'll be served Old Fashioned-like blend of bourbon, bitters, and orange zest. It's topped with a gimmicky (yet completely lip-smacking) maple syrup foam… it works, yes indeed.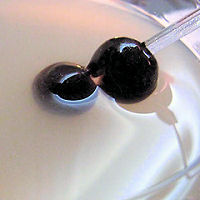 I had a chance to sample a Seelbach, a two-time entrant in last month's MxMo roundup, and found the Vessel version nicely balanced. Aviations, Manhattans, 'Ti Punch, Blood & Sand variations… I sipped them all, and loved the lot. And the nibbles our group shared — a charcuterie platter, and an assortment of almonds and olives — were well-constructed enough that I'd consider ordering some of the more-ambitious offerings next time.
I'll be the first to admit that a couple of rounds of pre-dinner cocktails may not be a solid way to judge the depth of any bar's talents and charms. But I will say that on the rare occasion when I'm just not in the mood for a trip down to the Hillclimb, or when I'm feeling glittery and uptown, it's nice to know that Vessel's garnered enough of a following among Seattle's cocktail cognoscenti that we'll have another worthy place to drink in our second hometown.
Vessel
1321 Fifth Avenue
Seattle, WA 98101
206.652.5222
- Monday through Friday from 11:30a; weekends from 4p