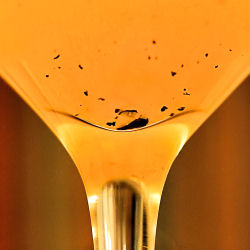 Passing time waiting for a table at Range, I noticed some of my favorite bottles clustered together along the bar: Chartreuse, St-Germain, and No. 209 gin.
"Are those all for the same drink?" I asked Brooke, the bartender.
"Yes they are — our nightly special."
"Sold," I said, closing the menu unread.
She set to muddling black peppercorns in a mixing glass along with some cantaloupe chunks. Ugh, I thought to myself, that looks nasty. No fan of the muskmelon, the mere idea of a cantaloupe cocktail made me gag.
And then she added the St-Germain and the Chartreuse to the muddled mixture, and I realized that was my drink in her hands. Oh god…
But really, I should have known better than to fret. The crew at Range, while adventurous, rarely steer me wrong. This drink was no exception. Somehow it all worked — the Chartreuse brings out the melon's herbal overtones, and the St-Germain accentuates its floral notes. A splash of lemon juice keeps things in balance, and a good long shake opens it all up. The black pepper's heat isn't immediately apparent; it works like an internal garnish that becomes more obvious as the drink warms, a great counterpoint to the increasing sweetness as the chill fades.
Range christens its creation the Can-Can, a clever nod to the cantaloupe base, the two French liqueurs, and the pepper's kick. We'll just overlook the fact that there are at least two other cocktails with the same name — a surprising oversight from the upstanding mixological minds behind Range's bar.






Can-Can a la Range
3/4 tsp black peppercorns
1/2 cup cubes of ripe cantaloupe (4-5 chunks)
2 oz dry gin (Range alternates between Plymouth and No. 209)
1 tsp Chartreuse
1/2 oz St-Germain elderflower liqueur
juice of 1/2 lemon
In a heavy-bottomed pint glass, muddle the peppercorns with half the melon until cracked. Add the rest of the cantaloupe cubes and continue to muddle until juicy and soft. Add the remaining ingredients, then shake well and strain into a well-chilled cocktail glass.