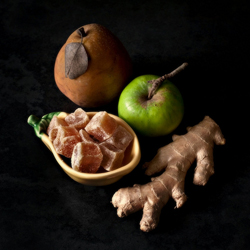 This month's final CanJam theme — dried fruit — had me kicking the walls. I don't really enjoy the texture of dried fruit, and given that it's already preserved, it seems redundant to can it.
But our hostess, Tigress, set naysayers' minds at easy, allowing that even a small amount of the featured ingredient was acceptable. With that in mind, I went back through the files to find a way to preserve a seasonal fresh ingredient with just a touch of dried-fruit flavor.
While looking through recipes for last month's pome-fest, my runner-up candidate sounded so good that I put it aside, knowing I'd want to make it some other time. Calling for both dried currants and candied ginger, it definitely fits the bill for this month's CanJam.
If you, like me, can't get enough of ginger's piquant flair, you'll be happy to see that this recipe calls for ginger in three forms — fresh, candied, and ground — for a triple dose of sweet heat. The original recipe-writer calls this preserve a chutney, which it technically is, given the onions and vinegar. But the resulting texture is more like a savory compote or chunky pear-applesauce hybrid than the sticky, almost-chewy texture most of us associate with chutney. It's delicious, of course (just look at that ingredients list… how could it not be?), but I felt a name-change was in order.
If your pears are thin-skinned and relatively free of blemishes, you may want to leave them unpeeled, to give the preserve a more rustic texture and color. If you prefer a smoother, lighter-colored preserve, do peel them. Note too that I've halved the original recipe's quantities, so doubling the quantities below to make a 6-jar batch should be trouble-free.
Savory Triple-Ginger Pear Preserves
- adapted from Chow Times
3 cups peeled (if desired), cored, and diced pears, mixed varieties
1/2 cup peeled, cored, and diced tart apple
1/2 cup chopped onion
1/4 cup minced candied ginger
1/4 cup seedless sultanas or dried currants
5oz apple cider vinegar
1/2 cup raw sugar or light brown sugar
1 clove garlic, sliced
1/2 T grated fresh ginger
1/4 tsp salt
1/4 tsp red pepper flakes
1/4 tsp ground dried ginger
Prepare canner, lids, and three 8-oz jars according to the usual method; keep jars hot until needed.
In a medium saucepan, heat all ingredients except pears, and bring to a boil over medium-high heat. Reduce heat to medium-low and simmer uncovered for 30 minutes, stirring occasionally.
Add the pears and bring to a boil over medium-high heat. Reduce heat again to medium-low and simmer until the desired consistency is reached, about 30 minutes depending on simmering speed, stirring occasionally at first but more often as you come closer to the end. The mixture is ready when it easily holds together and no excess liquid appears when parted with a spoon.
Using a stainless-steel canning funnel, ladle preserves into hot jars, leaving 1/2-inch headspace. Remove air bubbles using a plastic knife or chopstick, and readjust headspace as needed. Wipe jar rims with a clean, damp cloth and center the hot lids on jars. Screw band to fingertip-tight.
Place jars in canner, ensuring they are completely submerged. Bring to a boil and process covered for 10 minutes. Remove canner lid; wait 5 minutes, then remove jars. Cool thoroughly, check for seals, and store in a cool, dark place for up to a year.