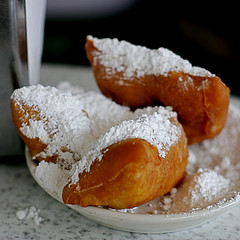 Originally posted on the Tales Blog, where we're working with many other cocktail bloggers to cover Tales of the Cocktail, 2009.
As someone who has been to my share of trade shows and conferences, I can tell you that the phrase "convention lunch" is enough to strike fear into the heart of the boldest traveler. But this is Tales of the Cocktail, which is about as un-convention-al as it gets. You can count on a good time in the seminars, tasting rooms, and party rooms, and then stroll out to some seriously good food.
Yesterday was the perfect example. We rolled out of bed, still on Pacific Time and fuzzy from the previous night's festivities, cleaned up a bit, and then hit the bricks, aiming for the river, Cafe du Monde, and beignets with cafe au lait. The beignets come three to a plate, snuggled into a pile of powdered sugar that looks like nothing so much as the scene in the third act of Scarface where Tony Montana plunges his face into a mountain of cocaine. Instead of our noses, we plunged our beignets into the fluffy white mound while a singing, trumpet-playing entertainer performed "Down by The Riverside," "Danny Boy," and other feats of musical daring for the amusement of passers-by.
On our way back to the hotel, our eyeballs vibrating ever so slightly from the sugar buzz, we realized that our "lunch" break wouldn't come until 2:30, and that we needed something a bit more substantial to carry us through the day. So, we stopped at Johnny's Po-Boys and split an egg and bacon po'boy, washed down with a couple of Barq's root beer sodas. Mother's may get more attention, but for our money, Johnny's is the spot. It's a place of wonderful mysteries. How do they manage to get the rolls to be tender, chewy, and flaky all at the same time? How can they offer fried chicken with a homemade biscuit and white gravy for $2.50 a plate? And how am I going to manage to get here enough times this week, given all the other great places that we'll be eating at?
Back at Tales, we soaked up some knowledge and tasted some spirits, but I have to admit that I was already looking forward to our next food foray. We roped in Marshall from Scofflaw's Den and headed back into the Quarter, aiming for Central Grocery and its famous muffuletas.
I had my first Central Grocery muffuletta at last year's Tales, and it was a madhouse. There was a line out the door, and every horizontal surface was staked out by someone eagerly devouring one of the sandwiches. Today, there were no crowds, which made the lunchtime experience much more civilized. But even if it were wall-to-wall people, it wouldn't have mattered. If there's anything wrong with loving a sandwich the size and shape of a hubcap, spread with oily, tangy olive salad and filled with all sorts of good things (salami, capicola, and provolone, just to name a few), I don't want to be right.
The best part? The day wasn't over, much less the week. We have got to get to Green Goddess, and there's a slew of other stuff on the schedule. And no matter where we are I'm pretty sure that there's another plate of beignets calling my name, down by the riverside.