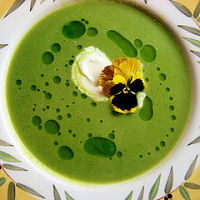 The gorgeous soup we served for Easter-eve supper — as a first course before a tried-and-true potato gratin and a succulent Fatted Calf Petit Jamon — is an old Soup of the Fortnight favorite. But last time I wrote about it, I only linked to the original recipe (which serves 16+!) and didn't include a photo. As you can see, it's a soup that looks much more elegant in the bowl than it sounds from a simple reading.
The recipe made its debut a year ago in Seattle, at a dinner organized by a group of MouthfulsFood friends to celebrate the start of spring. We weren't able to make it to that dinner, but the recipe sounded so amazing, I couldn't wait to try it. I whipped up a batch for a dinner party a few days later, including the chive oil and the lemon creme fraiche — touches I probably wouldn't have bothered with for an everyday meal. But, as I learned, it would not be wise to skip them: Unlike many garnishes, they're the crowning glory of this soup, elemental pieces whose presence would be sorely missed in the end result.
Jan's Spring-Green Soup
– serves 6 as a first course
3 cups good quality chicken stock
1 to 2 oz. bacon strips
1T unsalted butter
1/2 white onion, chopped
1 large stalk celery, trimmed well of strings, chopped
2 stalks green garlic or 1 medium leek, washed well (tender parts only), chopped
1 T chopped Italian parsley
2 T dry vermouth
4 oz. fresh sugar snap peas, trimmed and cut in half
1 small head butter lettuce (aka Boston or Bibb lettuce), rinsed well and chopped
3 cups frozen petit pois, thawed (such as C&W Early Harvest Spring Peas)
1 long sprig of fresh rosemary
Salt, to taste
White pepper, to taste
Fresh lemon juice, to taste
1/4 to 1/2 cup heavy cream
Put chicken stock in a large saucepan or small stockpot (at least 4-quart capacity) and bring to a boil. Prepare an ice bath under a large, metal bowl.
Meanwhile, sauté the bacon in a large sauté pan until browned and fat is rendered. Remove strips and put them in the stockpot with the stock. Pour out all but about 1T fat from sauté pan, add 1T butter. Add onions, celery, leeks and rosemary sprig to pan. Stir to combine, add a pinch or two of salt, and sweat for 10 to 15 minutes, being careful not to brown vegetables. Add more pork fat if needed. When soft, add parsley, deglaze the pan with vermouth, and reduce the vermouth briefly. Add these ingredients to the stock.
Bring the stock back to a boil; add the sugar snap peas and cook for about 2 minutes. Add the lettuce, bring back to the boil and cook for 1 to 2 minutes. Add the peas, bring back to the boil, and cook until everything is just tender. The lettuce gets dark and slimy, but don't fear: All will be well. The peas should still be quite bright green …don't overcook or it will all turn grey.
When all vegetables are tender, immediately pour the soup into the large bowl over an ice bath and stir to cool. This will keep it from overcooking and darkening. When cooled to room temp, remove rosemary sprig and bacon strips.
Puree the soup with a stick blender (or, using in a traditional blender, in batches) and strain the puree into another pot or bowl. You'll need to work for a while with a rubber spatula to push the soup out and leave the solids behind. This is one time where pressing hard and stirring around is not just fine but required: You want just the fibers left behind. If you leave too much vegetable matter in the strainer, your soup will be thin, and you won't have enough to make six servings.
(The soup can be refrigerated at this point for a day or two.)
To serve cold:
Add cream as desired, being careful not to overwhelm the fresh, green flavor. Start with 2T of cream; taste. Adjust seasoning with salt, white pepper, and small amounts of lemon juice.
To serve warm:
Heat soup over medium-low. Add cream as desired, being careful not to overwhelm the fresh, green flavor. Add cream as desired, starting with 1/4 cup; taste. Adjust seasoning with salt, white pepper, and small amounts of lemon juice.
To finish:
Ladle into bowls and add swirls (or a dollop) of lemon crème fraiche and droplets of chive oil. Garnish with an edible flower, if desired.
—-
Lemon Crème Fraiche
1/2 cup crème fraiche
Zest of 1/2 lemon, finely grated
Lemon juice to taste
Salt
Fresh ground pepper
Stir up crème fraiche with drops of lemon juice and some of the zest, starting with about 1 tsp. Add a pinch of salt and a grind of pepper. Taste and adjust amount of lemon juice/zest to taste. If you need to thin more, but don't want to add more lemon juice, use milk. Put into squeeze bottle or drop by the spoonful into soup.
—-
Chive Oil
1/2 cup oil, preferably mild olive oil
1 bunches chives, cut into thirds (divided use)
Salt to taste
Blanched one third of the chives for 10 seconds and shock in an ice-water bath. Puree the blanched and raw chives in a small blender container with the oil and the salt. Taste for salt, and add more oil if the salt or chive flavor is too strong. Let the puree sit for several hours. Strain twice to remove solids.