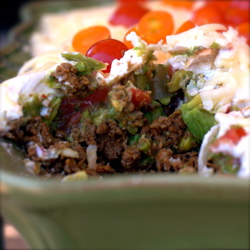 Although I am a major fan of authentic comida mexicana, I'll readily admit to an equal fondness for old-fashioned gringo-style 'Mexican' food, a love I come by honestly courtesy of my Southern California roots. So when our favorite Marin-dwellers invited us up for more pear-pickin' fun — this time under the guise of a 1960s-theme potluck — I had a treasure trove of retro recipes to choose from already in my files.
Most recipes for Seven-Layer Dip feature a storebought fiesta of canned beans, taco mix, shredded cheese, and pre-made guacamole in a tub. But this party's guest list included some of the area's best loved and most popular food bloggers — there's no way I'd serve them anything from a can.
Taking things a little bit over the top (shocker!), I wondered if I could make the entire recipe using local ingredients. By ditching the usual topping of canned black olives in favor of multi-colored baby tomatoes, it was a slam dunk: Rancho Gordo red nightfall beans, homemade chorizo — made at our SausageFest from Prather Ranch pork shoulder — plus Will's excellent avocados, Dirty Girl tomatoes, and local dairy products… even the chips were made in Napa.
Locavore -and- retro? Hell yeah.
Seven-Layer Dip, food-blogger style
1/2 pound ripe tomatoes, diced
1/2 to 1 jalapeno or serrano chile, minced
1/2 white onion, diced
1/4 cup chopped cilantro
salt, to taste
1 pound Mexican-style chorizo
1/2 onion, chopped
1 pound Rancho Gordo beans, cooked in the approved fashion
1 tsp Mexican oregano
1/2 pound cheddar cheese, shredded
1/2 pound Jack cheese, shredded
3 large Haas avocados
1/2 jalapeno or serrano chile
1/2 onion, minced
2 small tomatoes, diced
pinch of ground cumin, or to taste
1 large container sour cream
1/2 pint Sweet 100 tomatoes, halved
2 bags good tortilla chips
Mix up the tomatoes, jalapeno, onion, cilantro, and salt in a medium bowl, and set aside to allow the flavors to combine.
Saute the chorizo in a large skillet until cooked, breaking up any chunks as you go. When fully browned but still juicy, remove the sausage to a bowl or plate with a slotted spoon, leaving the fat in the skillet.
In the same skillet, saute the onions in the chorizo fat until browned and soft. Add the beans and some of their cooking liquid, smashing with a potato masher until mostly smooth; add additional bean liquid or warm water to get to a smooth consistency. Add the Mexican oregano, and stir to combine. Spread the beans in the bottom of a 13×9 casserole; top with the browned sausage, then half of the shredded cheese; set aside.
Halve the avocados and remove the pits. Score each avocado half at 1/2- to 3/4-inch intervals, cutting down to — but not through — the skin. Scoop out the avocado chunks with a soup spoon and place them in a large bowl. Add the pepper, onion, tomatoes, and cumin, mixing just until combined; you want plenty of texture. Carefully smooth the guacamole over the cheese-topped chorizo, then top with the salsa, the sour cream, the remaining shredded cheese, and the Sweet 100 tomatoes. Serve with tortilla chips for dipping.
Note: If you're serving the dip immediately, it's more attractive to use the guacamole as the last layer before the tomatoes; this isn't very practical when you're taking the dish (chilled, please!) to a party in another county, unless your friends like brown avocado.
—–
Top photo ©Sam Breach / Becks & Posh; used with permission