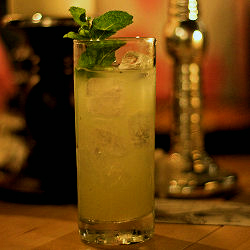 I feel downright terrible that it's taken me this long to tell you about the fabulous time we had last month in Seattle at Le Mixeur, the exclusive soirée organized by the Munat Bros, Ted & Charles. But in my defense, it's taken me this long to figure out how to explain it without sounding like I'm bragging. Because, dear reader, saying Le Mixeur is a cocktail party is like calling the Titanic a boat: Technically accurate, but completely missing the point both in scale and impact.
We'd read about these fabulous shindigs, jealously drooling over tales of drinks created by some of the West Coast's finest mixological masterminds. But somehow — despite having ingratiated ourselves to the Munats both at the Zig-Zag and at Tales of the Cocktail — we'd never managed to sync our travel plans to their social calendar. Eventually, we hit the jackpot, scoring an invite to Le Mixeur Cinq on a weekend when we had no other obligations; away we flew.
On our first night in Seattle, we dropped in on Keith Waldbauer skulking in his lair at Union, one of our all-time favorite Seattle dining spots. We'd read that Keith had contributed a recipe to the Mixeur menu, and we asked him to tell us about his inspiration for the drink that would be served to dozens — if not hundreds — of serious cocktailians the following night.
"Oh… you're going to Le Mixeur?" he asked with a gleam in his eye. "You'll have to tell me how my drink tastes. I just sent them a recipe and didn't even try it."
Was he pulling our leg? You never know with Waldbauer. No sir, you never know with a man like that.
The next night, we made our way to a warehouse loft in SoDo, in the ominously empty streets bathed in the blue glow of Qwest Field. After climbing flight after flight of stairs, our efforts were rewarded. The white-walled loft opened out and up and away, revealing a happy hubbub. Our eyes darted from walls hung with eclectic art to the oh-my-god-impressive bar in the corner, where professional mixologists and a few determined amateurs shook and poured for the flowing crowd. In an open mezzanine above, the DJ nodded and smiled as the beat kicked in; a belly dancer took the floor, gyrating for the loudly appreciative audience.
The bar was stacked deep and thick as folks studied the night's menu and waited patiently. We quickly found Charles Munat, and weasled our way into a couple of drinks after what we later realized was a uniquely short interval. Happily, the crowd was full of plenty of friends, as well as many familiar faces from bars both near and far. And the gods of mixology obviously watch over fools and drunks, because Keith's drink — a minty, gin-based, tall sour with a Chartreuse float, which he'd dubbed the Aristocrat Swizzle — was every bit as perfect as the setting.
Aristocrat Swizzle
- Keith Waldbauer

1-3/4 oz gin
3/4 oz lime juice
10 mint leaves
dash simple syrup
1 barspoon green Chartreuse
Muddle mint and syrup in a mixing glass. Add gin and lime juice, and shake with ice. Strain into an empty Collins glass, fill with crushed ice, and top with a Chartreuse float. Garnish with a sprig of mint.