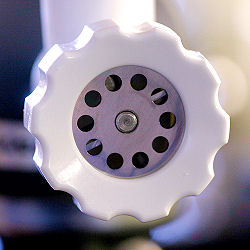 Frankly, I don't know how I ever survived without my KitchenAid mixer's meat-grinder attachment. Sure, it's great for the occasional sausage-making session, but its real appeal lies in its ability to turn a worthy chuck roast into the world's juiciest, tastiest hamburger in nothing flat.
When we were living in the basement, I resorted to store-ground meat a few times, and got a taste of what I'd been missing: Even when we bought good Prather Ranch ground beef, the pre-processed meat morphed into chewy, dry-ish, and lackluster patties — a pale shadow of the glorious burgers made the same beef, freshly ground.
Fortunately, grinding your own burgers is so simple it's easy enough for a weeknight: Cube your chuck roast, run it through the grinder's coarse plate, season the ground meat, and measure out 5 to 6 ounces per patty. Ever-so-gently, pat each portion into a thick disk, then make an indentation in the center to keep the patties flat when cooked. Grill or broil to your desired doneness, and serve on a good, lightly toasted bun — we like the pain de mie buns from Acme.
Cleanup's a snap, too: All the grinder parts go right in the dishwasher. Even taking into account setting up the mixer — which takes all of 2 minutes — the process isn't drastically more troublesome than opening a cellophane-covered styrofoam pack.
And in this age of mad cows, it's comforting to know that our hamburgers contain only the parts that I put through the grinder. But even if it weren't a safer alternative, the taste of home-ground meat alone would win me over. And if you aren't feeding a crowd, you can make more patties and freeze them for later, although I find they lose a bit of the charm in the freeze-thaw cycle — I usually turn my leftover ground chuck into meatballs.
Whatever you do with your home-ground beef, I promise you'll taste the difference.