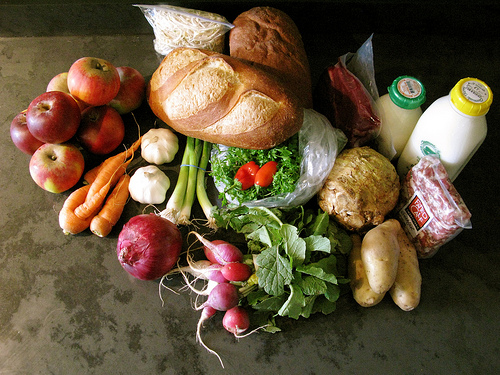 The image above is last weekend's shopping haul, one of a series of similar photos I've been taking each Saturday since early summer. Inspired by my friend Jen's beautiful shot of her farmers market purchases prettily laid out on a kitchen table in the cool spring light, I've started documenting what we're buying each week. I flatter myself that it's a fun Flickr set to flip through — overview shots of each week's purchases all piled together, and a few solo portraits of our favorite finds — and an interesting way to keep track of the seasons. I can imagine referring to it next year ("Did we get corn in June or July?") as a sort of visual seasonality calendar.
But, more than its mere utility, I'm struck by how beautiful the food we eat can be, especially in its natural state. Conventional wisdom holds that organic food is imperfect by nature, and uglier than the supermarket stuff. But after eating this way for the better part of two years, all I can see is the personality of our purchases. It's perhaps a little too romantic to say that this aesthetic appeal is the direct result of the care that our farmers give their crops, and yet I do realize a lot of the variation I find so appealing — the huge with the tiny, the bright with the dull, the symmetrical with the misshapen — is part and parcel of the heirloom varieties and less-industrial methods that small-scale farming allows.
The set is a celebration of everyday beauty, the product of my brief meditation each Saturday on the wonders of the market. It makes me inordinately happy to lay out my week's purchases on the counter, fuss with the arrangement, and set up the shot. Sometimes the light cooperates, and I end up with a subtly shaded image that's like a Renaissance painting. Other times the spirit eludes me, and I end up with something less artsy and more documentary. Either way, I'm forcing myself to pay closer attention to mundane beauty, to wean myself from the fake perfection of the retail world.