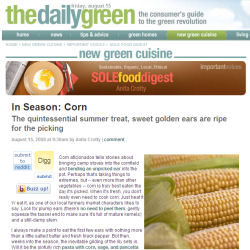 I mentioned this a few months ago, but — since it took a while to get rolling, and then a little longer to get things dialed in — I thought it might be nice to revisit my other blog-home, The Daily Green. My mini-column, SOLE Food Digest (Sustainable, Organic, Local, Ethical) recaps the good-news side of eating with a conscience, including seasonal suggestions and other encouraging tips from the blogosphere and beyond. It runs three times a week, and you can add it to your reader by subscribing to the SOLE feed.
If you want to read all Daily Green food bloggers' posts — including "What to Eat" from Marion Nestle, "Recipes from the Gluten-Free Girl" by Shauna Ahern, and "100-Mile Diet" updates from Alisa Smith and James MacKinnon, then subscribe to the feed for New Green Cuisine.
Back on the home front, if you've been clamoring for a way to keep on top of Married …with Dinner — and you're not using an RSS reader, for whatever reason — you can now subscribe via email.
And if you're waiting on a comment response from me… mea culpa. It's been a doozy of a week here, and I will try my best to write coherent follow-ups soon.