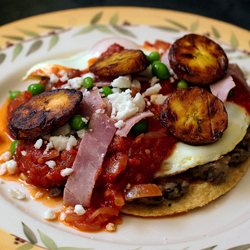 Two weekends ago, we ran into our friend Jeanne at the farmers market, as we often do. Jeanne had just returned from an East Coast trip, so we had a lot of catching up to do. But after chatting in the summer sun for a while, Cameron and I started to get antsy: We had to get home to start curing pork belly, the first step in making a batch of homemade bacon. Hearing this, Jeanne mentioned she'd always wanted to make her own bacon, but didn't have the space for a smoker. "We have a smoker you can borrow whenever you want," we offered. "Or, you could just come over next weekend, and smoke some bacon with us."
Jeanne is nothing if not determined: When she discovered that none of the farmers market vendors had any pork belly left, she scoured the City for a piece, so she could cure her own batch at home. Knowing that Jeanne and Cameron share a devotion to the Red Sox, I set the bacon-smoking time so that we could all listen to the game together: 10am Sunday. With pork curing in two fridges and the schedule nailed down, our discussions turned to more important things: What should we make for brunch?
"What do you think about huevos motuleños?" asked Jeanne, linking to her own recipe for the classic Mexican egg plate. "I think your fondness of things Mexican equals mine!" (She knows us well — it took me all of 30 seconds to agree.)
So last Sunday, Jeanne arrived right at 10am, with a bundle of cured pork belly, a bottle of homemade hibiscus-lemongrass agua fresca, and a ripe plantain. After we'd loaded up the smoker and dialed in the temperature, we popped back into the kitchen to finish up our brunch. As the sauce warmed, I refried the beans and crisped the tostadas; Cameron fried three sets of over-easy eggs to perfection (all at the same time!); and Jeanne sauteed the plantains and poured tall glasses of delicious agua fresca. Everything came together at just the right time — amazing what you can make happen when three avid cooks share the work. And so, as the smell of applewood began wafting in from the backyard, we sat down to a colorful and delicious Mexican brunch.
Despite its international origins, our team effort made a perfect One Local Summer feast. With the exception of the fried plantains — I claim a brunch-guest exemption! — everything in our meal came from local sources. It took a little creativity (substituting a salty local feta for Mexcian queso fresco) and a few extra steps to keep things locavore-friendly; you could certainly simplify things by using canned black beans and store-bought tostada shells if you weren't as set on having an all-local feast.
Huevos Motuleños
– adapted from World on a Plate
1-1/2 pounds ripe tomatoes
1 medium white onion, thinly sliced (divided use)
3 serrano chiles, cut into strips
–
1 ripe plantain, peeled and cut into 1/2-inch slices (optional)
2 cloves garlic, diced
1 to 2 cups black beans and their liquid
3 oz ham, cut into matchsticks or small dice
1/2 cup fresh peas, blanched or quick-braised
1 oz (about 1/4 cup) crumbled queso fresco or firm feta
8 eggs
4 corn tortillas
Roast the tomatoes on a rimmed baking sheet, 4 inches below a very hot broiler, until blistered and blackened, flipping to cook both sides. Cool tomatoes in a bowl, then peel while catching all the juices over the bowl. Coarsely puree the tomatoes and juice using a stick blender or in a food processor.
In a medium saucepan, heat 1T oil over medium heat. Add about 3/4 of the onion and saute, stirring regularly, until onions golden, about 8 minutes. Add the tomatoes and chile strips and simmer over medium-low heat for 15 minutes or so, stirring often, until the sauce is beginning to thicken but is still juicy. Season with salt to taste, and remove from heat to let the chiles steep.
(At this point, you can cool and refrigerate the sauce overnight.)
Pour a 1/2-inch depth of oil in a shallow skillet or frying pan. Warm the pan over medium heat until the oil shimmers. Add tortillas, one at a time, and cook until golden; flip with tongs and crisp the other side, then drain on a wire rack over newspaper or over a cookie sheet. Repeat with remaining tortillas until all are toasted.
Pour off most of the oil, reserving some (2T or so) for frying the beans, and leave about a tablespoon in the pan. Return to the heat, and lay the plantain slices in a single layer. Cook for 3 to 4 minutes per side until richly browned. Sprinkle with salt as soon as you take them out of the oil, then drain on paper towels and hold in a warm oven.
Add the reserved oil to the pan, and saute the remaining onions until golden and soft. Add the diced garlic and cook for another minute or two. Add the beans and a spoonful of their cooking liquid to the pan. Mash with a potato masher until beans are soft but some texture remains. Add more liquid as needed to achieve a spreadable texture, and keep warm, covered, over very low heat.
Mix together the ham strips and the peas in another small pan or dish, and warm gently over low heat. Crumble the cheese into a small bowl and set aside. Remove the chile strips from the tomato sauce, and set the pan of sauce over low heat to rewarm.
Finally, fry the eggs using your preferred method. (Traditionally, you want a runny yolk, so sunny-side up or over easy.) Spread some of the beans over each tostada, slide an egg on top, drizzle the tomato sauce over and around the eggs, letting it run off the tostada and on to the plate. Sprinkle each portion with the ham, peas and cheese. Serve immediately.
---
Farmers and food artisans who created the ingredients for this week's meal:

Bruins Farm
, Winters: Tomatoes
Catalán Family Farm
, Hollister: Onions
Chue's Farm
, Fresno: Serrano chiles & garlic
Rancho Gordo
, Napa: Black beans
Boccalone
, Oakland: Ham (proscuitto cotto)
Iacopi
, Half Moon Bay: Shelling peas
Spring Hill Cheese Company
, Petaluma: Goat feta
Eatwell Farm
, Dixon: Pastured eggs
Primavera
, Sonoma: Corn tortillas

Bariani
, Sacramento: Olive oil
…plus our own homegrown
epazote
for the beans