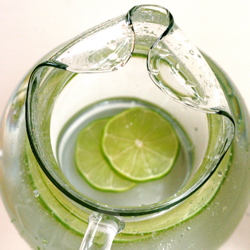 We spend a fair bit of time thinking about fun things to put in cocktail glasses. We like filling them ourselves, and we like finding places where they arrive before us brimming with tantalizing, aromatic mixtures. But while we've written about liquors, liqueurs, bitters, and more, we've yet to address water, an indispensible part of an enjoyable cocktail experience.
We think about water in very different ways than we used to. It's easy to forget that not long ago (when Lionel Ritchie danced on the ceiling), Evian and Perrier were truly snooty stuff. Today, even the most benighted grocery store offers multiple brands of still and sparkling water.
Bottled water is often more readily available than tap, and it occasionally solves real issues of quality or sanitation. Anita's mom lives just outside of Las Vegas, where she buys drinking water by the five-gallon jug at one of the area's ubiquitous water stores. (Yep, that's all they sell.) We're glad that she does, as the local tap water laughs at Brita filters and tastes like it came from an ill-kept swimming pool.
But many geographic regions have seriously good tap water, and local water is even an irreplaceable recipe ingredient. In these areas, bottled water provides convenience or a perception of higher quality, but comes with with a true pricetag we're just starting to appreciate. Why, when we're counting our food-miles, watching our carbon footprint, and supporting area farmers by buying local meat and vegetables, are we washing it all down with water that has been shipped from Europe? This question has prompted several Bay Area restaurants to switch from bottled water to municipal water that they refilter — and sometimes even carbonate — themselves.
Carbonation, of course, generates that delightful addition that you can't get from the tap: bubbles. The carbonation machines used in restaurants are large and expensive — out of reach of most private citizens. But supplying your maison with local eau gazeuse is achievable. If you live in or near a city, you may be within range of a service like the Seltzer Sisters, which jacks up good old Hetch Hetchy with fizz and delivers it in reusable plastic seltzer bottles. If you have a hardcore DIY streak, you can find surprisingly detailed plans for building your own carbonation system. Or, you can buy a soda siphon and charge your own seltzer. (In the interests of full disclosure, our own siphon adventures have been less than successful; your mileage, as they say, may vary.)
No matter where it comes from or how it got there, water can make or break a single cocktail or an evening's indulgence. Soda water is a common mixer, and ice cools and tames a drink's ardent spirits — some even feel strongly about the very shape and clarity of the ice that does the job.
But for all that, the water that we appreciate most when we're at a bar is stuff that arrives alongside our cocktails. Presuming that it doesn't taste like a Vegas swimming pool, our requirements are simple: water should be available immediately and continually. We do our level best to drink at least one full glass for each cocktail. Providing ample water is one of the surest signs of a thoughtful bartender; staying hydrated is the best way we know of to avoid a painful sunrise.
Dressed-up Tap Water
Even if your area enjoys pleasant-tasting tap water, a quick preparation before your next dinner party can add a bit of grace to your table. Fill a pitcher with water and put it in the refrigerator to chill. An hour or so before your guests arrive, float a few slices of citrus or cucumber in the water to give it a little extra flavor. You can leave the citrus slices in the pitcher when you serve, but it's best to pull the cucumber out, as it can become waterlogged and unattractive.