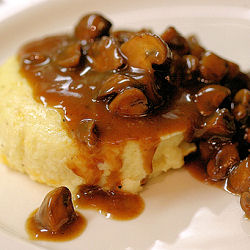 In my new favorite cookbook, Big Small Plates, author Cindy Pawlcyn names her savory corn custard as a brunch favorite. I have no problem believing that this dish flies out of the kitchen, no matter the time of day: We served this recipe a recent dinner party, and our guests all but licked the plates.
The first time I made the custard, I used a standard box grater to remove the kernels from their cobs — a messy proposition when dealing with super-fresh farmer's market corn that spurts milk everywhere. After reading about the Kuhn-Rikon corn zipper in a magazine, I decided to invest in one of these $12 gadgets. Remarkably, it works just like its namesake: Wedge its little crown-shaped tooth at the end of an ear, give a gentle tug, and watch in amazement as two rows of corn unzip right off the cob in perfect alignment.
Does the corn zipper really make this custard better? Given that you end up whizzing the corn to a puree, the answer's a definite NO. But it certainly makes the prep a lot less messy, and far more amusing. I'd even go so far to say that the corn zipper's a must-have item if you're you're making corn relish or succotash, or any other recipe where whole kernels are a plus, or even if you're cooking for anyone who loves fresh corn but can't handle the cob. Yes, Alton acolytes, it's a unitasker. (But then again, so's my citrus squeezer, and you'd have to pry it out of my cold, dead hands.) On the plus side: It doesn't take up much room in the prep drawer, and it's so freaking cheerful that you just have to smile back — who could resist its happy little face? And as a side benefit, once you own a corn zipper, you'll have no trouble deciding what to enter into a crazy kitchen gadget event (EDIT: like the one Kathy's hosting here).
Like other Big Small Plates recipes we've tried, this one yields a serious mismatch of sauce and custard quantities. I doubled the sauce on my second attempt, and still ended up with just enough to garnish six servings (albeit rather generously). Either prepare for scantier saucing, or consider doubling the recipe — or at least the stock portion — yet again.
Sweet-Corn Custard with Mushroom Sauce
– adapted from Big Small Plates
Custard
3 ears fresh corn (to yield 2 cups kernels)
2 cups heavy cream
4 large eggs
1 cup (4oz) loosely packed grated Monterey Jack cheese
1 T Dijon mustard
1/2 tsp. salt
1/4 tsp. white pepper
Sauce
4 cups rich stock (beef, chicken, or veal)
2-4 T olive oil
1 pound mushrooms, stemmed and quartered
2 T butter
2 shallots, minced fine
Salt and freshly ground black pepper
Minced fresh chives, for garnish
Using a corn zipper or the coarse side of a box grater, cut the kernels off the cobs. Heat the corn and cream together in a medium saucepan. Bring to a gentle simmer and cook 5 to 10 minutes until the corn is tender. Cool slightly, then puree with a stick blender. (If using a traditional blender, let mixture cool further.) Strain the puree through a fine sieve into a large mixing bowl, pressing well to extract all the liquids. Add the eggs, cheese, mustard, salt, and pepper to the bowl, and stir gently to combine.
Preheat the oven to 325F, and butter eight 6-to-8 oz ramekins. Measure an equal amount of custard into each dish, leaving at least 1/4-inch of headspace. Place the ramekins in a large, shallow pan and carefully fill the pan with enough hot water to reach 2/3 of the way up the side of the ramekins. Cover the pan with aluminum foil, punching a few holes in the top with a skewer, to help prevent condensation drips. Bake the custards in the water bath until just set; start checking at 45 minutes. (The time will depend on the thickness and size of your ramekins, and the size of your water bath.)
To make the sauce, rapidly simmer the stock in a saute pan over high heat until reduced to a sauce-like consistency. Meanwhile, heat the olive oil in another saute pan over medium-high heat. Add the mushrooms and cook, stirring, until they have released their juices and the pan has dried out a bit, 10 to 15 minutes. When the mushrooms are done, salt them to taste and increase the heat to high and pour the stock into the mushroom pan. Bring the stock to a simmer and cook 2 minutes. Just before serving, add the butter and shallots, swirling into the sauce. Season to taste with salt and pepper.
Turn the custards onto individual plates. Pour some sauce over or around each of the warm custards and garnish with the minced chives.
Note: Custards can be kept warm in their water bath for about 20 minutes; if you need to wait longer, refrigerate and gently reheat in a water bath for 10 to 15 minutes before serving. The texture will suffer slightly, but the taste is undiminished.