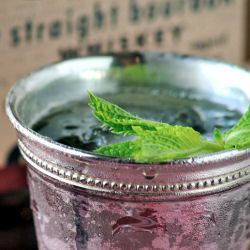 Editor's note: Inspired by our recent mojito post and his Kentucky-bred husband's birthday this week, Sean returns to Drink of the Week guest-bartender duties. By featuring this classic, I think it's safe to say that he's absolved of any trauma inflicted by his last stint behind the bar. [wink]
——
I don't remember just how I started
I only know that we should have parted
I stole a kiss, and then another
I didn't mean to take it further
One mint julep was the cause of it all
– "One Mint Julep," Rudy Toombs
Few cocktails are as storied, as fraught with history and tradition in America, as the mint julep. The very word "julep" evokes a paradoxical domestic exoticism: nostalgic visions of the Old South, of white-bearded men in linen suits coddling dogs named Belvedere. But when was the last time you ordered one in a bar?
Somehow, despite its technical similarities to the fashionable mojito, juleps have yet to catch on as a hipster sipper. Perhaps bourbon's star has not yet risen as the booze of choice in the way that rye, gin and even cachaça have. (Mind you, bourbon is always in vogue at our household.) Maybe its Southern connotations render it undesirable for the too-cool-for-school crowd. Or could it be the special glassware?
Whatever the case, I am here to tell you that nothing is more refreshing than an ice-cold mint julep, condensation sweating down its sides, on a hot, muggy day. Heck, even on a foggy summer's day here in San Francisco, they're downright delish.
And then there's those cups. While you don't absolutely need julep cups, they do serve a practical purpose beyond merely being stylish and sophisticated (not that those are not reasons enough to use them). Optimally made from sterling silver, the julep cups' metal sides chill quickly and help keep your drink cool as a cucumber. And let's face it — the very sight of condensation on the side of the cup makes your mouth water in Pavlovian anticipation.
Like many Southern things — biscuits, fried chicken — mint juleps are simple enough, requiring few ingredients but also a light hand. Though it's nothing more than mint, sugar, water and bourbon, balance is key. You don't want a drink that's too cloyingly sweet, chewing-gum minty or Molotov-cocktail strong. None of those things is particularly refreshing.
Like the mojito, the julep begins with a muddle, and this is where things begin to get complicated. Some recipes call for granulated sugar, others powdered sugar, others still simple syrup. Most recommend muddling the mint first and letting it steep for a few minutes. Yet Robert Duvall as the julep-sipping Captain in Thank You For Smoking extolled the virtues of crushing the mint on the ice.
I don't know about you, but I'm a busy man. I'm not going to take the time to pluck only the most nubile leaves, to mill my sugar to the right grain or to hand-chisel my ice to a perfect consistency. I prefer to keep things simple — as in simple syrup. (Good thing I have a bunch on hand.)
Just muddle the mint in the syrup, cover with crushed ice and pour the bourbon over. Stir until well chilled, and then sip with an audibly refreshed "ah!"
But if all this is just too rich for your blood, you can still enjoy a proper julep at my new favorite watering hole, The Alembic. They feature the mint julep in their J Peterman-esque menu of cocktails old and new, and they serve it in a proper julep cup and everything. Just one mint julep is guaranteed to inspire spontaneous conversation from your neighbors. And who knows where it could go from there?
I do declare, I believe I'm getting the vapors!





Mint Julep
Several fresh mint leaves, preferably organic, plus sprigs for garnish
3/4 oz simple syrup
2 oz bourbon
crushed ice
club soda (optional)
Place mint leaves in the bottom of a julep cup and add the simple syrup. Muddle the mint leaves just enough to bruise them all over — you don't want to crush them into a paste, just to release their minty goodness. Let stand for a minute or two to steep. Fill the cup with crushed ice. Pour the bourbon over the ice. Stir to combine and chill, until the cup is good and cold. If there's room in the cup and you are so inclined, feel free to add a splash of club to lighten it up. Garnish with mint sprig.
If you want to make juleps for a crowd, muddling is too time-consuming. You can make a whole batch of mint-infused simple syrup by steeping a combination of fresh mint and mint tea bags in your syrup for a few minutes, then straining it well, squeezing the mint and teabags to release the maximum mint flavor. Pour the cocktail with the same proportions, minus the muddled mint.