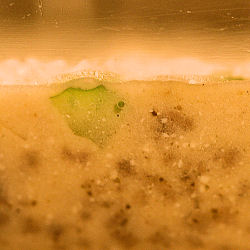 The lovely and talented Jennifer of Last Night's Dinner challenged me to divulge the five foods that I'm ashamed to love. After chewing on this meme for nearly two weeks, I have a confession to make: There aren't a lot of foods I'm embarrassed about anymore.
Some of my former foibles have fallen by the wayside. After reading up on the delightful ingredients in my once-beloved Fresca — what the hell are 'brominated vegetable oil' and 'ester of wood rosin' doing in my soda pop? — I've managed to get that particular grapefruit-flavored monkey off my back.
There are plenty of foods that I like that other people find amusing. I take a fair bit of good-natured ribbing about the frequency of my macaroni salad consumption, but it's hardly the stuff of blushes and stammers. Sure, there's a slight bashfulness about my regular indulgences in cheesy Mexican combo plates …but I eat enough of the real stuff that I can accept my fondness for the less-authentic version as a regional quirk. I've made peace with my unholy love of canned corned-beef hash, and even found a few foodie friends who share my tragic attraction to the pink cylinder of doom. But even this, the worst hyper-processed dreck of the lot, I wear as as a badge of my eclectic taste rather than anything I'm actually trying to hide.
But there is one food I'm just a wee bit embarrassed to love: Casseroles.
When we were kids, Mom always managed to make fabulous dinners on a slim budget. Our evening meals were never gourmet (that was Grandpa's turf), but they always tasted great. Shake-n-Bake chicken with rice, meatloaf and baked potatoes, even the occasional steak on the grill… we must've been the only kids on the block who didn't have to be coaxed to clean our plates. One-dish suppers were the mainstays of our family diet: Mexican lasagna, a pair of tuna casseroles — one with curried rice, another simply called "That Tuna" — and the frankly named Oven Put-Together. But the queen of them all, the one I still crave, was a homely little dish called Creole Rice.
Much like so many of the faux-ethnic dishes of 70s, there's not much 'Creole' about this mélange. (I suppose it's slightly more authentic than the disgusting-sounding 'Thai' Pepper Salad that my friend Michael recently dredged up. Secret ingredients: Bulls-Eye BBQ Sauce and Miracle Whip…). And while we're being honest, Creole Rice is definitely one dish that won't win a single beauty contest — it's about as beige as can be.
But it's comfort food in the extreme, at least for my family, and Cameron eats it without too much smirking. I jokingly call it Trailer Park Paella (though it's closer to Redneck Risotto), but that doesn't stop me from hauling out the old recipe card a few times a year. Still, that red-and-white can of Campbell's cream of chicken soup lurking in the dark recesses of our pantry was cause for more than a little locavore angst.
Inspired by The Homesick Texan's recent post about revamping her hometown favorite, King Ranch Chicken, I decided to see if we might be able to remove the store-bought gloop from good ol' Creole Rice without losing its homespun charm. Given that the soup was really the only scary ingredient, it wasn't terribly hard; if you use homemade breakfast sausage, you can probably even make it entirely with local ingredients.
Creole Rice Redux
2T salted butter
2T flour
3 cups chicken stock
1/4 tsp black pepper
1 cup sour cream
1 pound pork breakfast sausage
8 to 12 oz white mushrooms, sliced
1 cup diced celery
1 cup diced onion
1 cup uncooked long-grain rice
Preheat the oven to 350 degrees F.
Melt the butter over medium heat in the bottom of a large saucepan, then add the flour. Whisk continuously until the flour browns slightly — you're looking for a blonde roux. Add the chicken stock and bring to a boil; reduce heat and simmer for a few minutes until it reaches a thin but sauce-like consistency. Add the pepper and taste for seasoning, adding salt and more pepper if needed. Remove from heat and stir occasionally until warm but not hot. When cooled a bit, add the sour cream and stir until well combined.
While the sauce cools, sauté the pork sausage until browned, crumbling into small chunks. Remove the sausage from the pan with a slotted spoon, and place in the bottom of a large casserole. In the sausage fat (or oil, if you prefer) sauté the mushrooms until cooked but not dry. Add to the casserole on top of the meat, then top with the chicken sauce-sour cream mixture. Layer the remaining ingredients in the casserole in the order listed — do not stir. Push down any rice that rises above the level of the liquid, then cover and place in the oven for 75 minutes.
At the 60 minute mark, remove the casserole lid. The dish will still be fairly soupy at this point; push down any rice that has risen above the liquid, and continue to cook until the rice has absorbed all of the liquid, 15 to 25 minutes more.
Serve hot, with the curtains drawn.