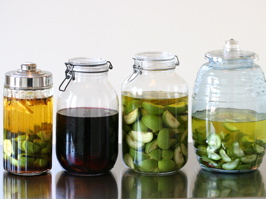 Every June 24, Catholics around the globe celebrate the feast-day of John the Baptist. And every year, on that same day, traditional-minded Europeans head into their local walnut orchards, filling baskets and bags with unripe nuts in order to make nocino, an Italian walnut liqueur, or its French cousin vin de noix.
We've made nocino every summer for the past three years, usually a bit later than the traditional saint's day due to trouble in our local supply chain. Suffice to say that we lack the necessary ferme, fattoria, or bucolic farmhouse of any sort, and we've relied either on nuts shipped from afar or the whimsical schedule of a certain vendor at the Alemany market.
This year, we not only avoided our usual delay, we even jumped the gun a bit. But I hope you'll agree our motives were good: We were off to Yountville for our anniversary, and I'd remembered reading Shuna's story last fall about Hoffman Farm, a Napa u-pick with a vast walnut orchard. The idea of making liqueur with nuts we'd plucked ourselves from local trees was simply too attractive to pass up, no matter the date was a tad early.
It took me days to work up the nerve to call John Hoffman and explain what I had in mind. He'd never heard of anyone wanting green walnuts before. "You do know they're incredibly bitter?" he asked me on the phone. But he graciously allowed that we might stop the coming weekend and pick some nuts, as long as we didn't come on Sunday morning during church. I assured him that we'd work around his schedule, and would be sure to call before we came, in any case.
Saturday rolled around, bright and sunny. We called Mr. Hoffman to make sure he was home, then donned hats and sunscreen and pointed the car toward Silverado Highway. Just past the intersection with Trancas, we spied the farm's little sign, a blink-and-miss-it affair. We pulled up the gravel drive and found Mr. Hoffman waiting for us in the shade near his farmhouse garage.
We introduced ourselves and chatted a bit, and he asked me to remind him about what I would do with my early harvest. I explained about splitting the nuts and soaking them in alcohol for most of the summer, then setting aside the strained, sweetened infusion until Christmastime. I marveled that a walnut farmer — and one with Italian in-laws, at that — had never tasted what I'd always assumed was a relatively common homebrew. Not only had he never made it, he'd never even heard of it. Chuckling, he quipped: "Sounds like a waste of a good bottle of vodka," and winked at Cameron.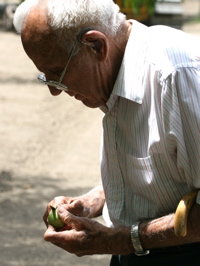 Then he picked up his cane and strolled us out into the orchard. A sun-dappled canopy of walnut boughs stretched as far as the eye could see, all the way back to the crossroads. Mr. Hoffman showed us how to avoid the nuts that suffered from blight — they were few, this early in the season — and how to spy the telltale bore holes of caterpillar infestation. He reached for his pocketknife and cut open one of the few rotten nuts he could find, to show me how the fungus penetrates the hull and works its way to the developing meat.
It was a botany tutorial, a history lesson, and a glimpse at a disappearing way of life. The Hoffmans have worked this land since the end of World War II. Now, they're farming one of Napa's few remaining diversified acreages, as vineyards squeeze out the fruits and nuts that once were the valley's pride. As Shuna mentions, although the Hoffman land is protected for agricultural use, there's nothing to prevent these noble trees from being torn out in favor of yet another mass of wine grapes.
After a half hour of picking nuts and snapping photos in the late-morning glow, we brought our canvas sack back to the garage. Mr. Hoffman discussed how to price our unusual transaction while he weighed our haul on his weathered scale. When all was said and done, he refused to take more than a fraction of what we're used to paying, even when we told him that the going rate was much, much higher. He shook his head like we were citified fools, then added: "You can keep the quarters if you tell me that recipe again." I smiled broadly and promised to send him prints of the photos we'd taken, plus a few different recipes to try.
We grinned all the way home, amazed at our good fortune in finding Mr. Hoffman — all thanks to Shuna.
After stopping by the local liquor depot for bottles of 100-proof vodka, I quickly set to work halving and quartering the green nuts, measuring sweeteners and spices, and sterilizing my infusing jars. Never had I had the luxury of using nuts picked within hours of infusing, much less 7 pounds worth gathered with my own two hands. Unsurprisingly, we had sufficient nuts for two different batches of nocino — my usual recipe, plus an experiment — as well as a version of Abra's traditional vin de noix and Lucy's lighter recipe made with white Burgundy and maple syrup.
I left my quartet of crockery on the new breakfast table for a day or two; they caught the light so beautifully that I wanted to see them (and sneak a sniff of them) all the time. Once the liquids steeped to a black-hole opacity, I followed tradition and put them out in the garden — in this case, the back deck — where they'll commune with nature for the next 40 days and 40 nights. Then we'll filter them, bottle them, and wait for the other end of the year, when midwinter brings us yet another celebration of the natural cycle disguised as a religious feast.
Hoffman Farm
2125 Silverado Trail
Napa, CA 94558
707 226-8938