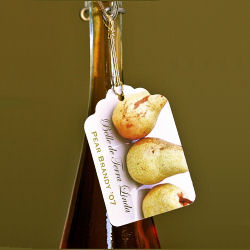 When a friend sends you home from a dinner party with a grocery bag full of her surplus fruit, there's bound to be a bowl of pears you can't quite devour before they get too ripe. This fact remains true no matter how many salads, croustades, soups, canapes, or batches of ice cream you make. Pear butter makes good use of these softies, of course, but there's only so much toast — and so many hostess-gift occasions — in a year.
Preserving fruit in liquor is a time-honored way of extending its shelf life; we've made brandied plums many times. They're incredibly simple to make, and they're fabulous served warm alongside good vanilla ice cream, or baked in a boozy clafoutis. But here's the dirty little secret: When all is said and done, the steeping liquid might even be better than the plums themselves.
One of my favorite fruit liqueurs is a pear cognac called Belle de Brillet, a spicy-sweet nip of autumn in a glass. It's lovely all on its own, and it makes a glorious addition to Champagne (with or without candied-ginger vodka). So deep is my affection for the Belle, and so cher its pricetag, I have to ration my doses; if I sipped to my heart's content, we'd be in the poorhouse by year's end.
You see where all this is going, clever reader?
My homemade, locavore pear brandy is one of those "so-simple-there's-no-recipe" recipes: Cut your ripe pears in half, and remove the core. Chop the unpeeled fruit into large chunks, and put them into a scrupulously clean glass or ceramic container. Top with a decent brandy — Korbel's based in Guerneville, if you're keeping things close to home — and let sit, covered, for 3 or 4 days.
At the end of the steeping period, drain the brandy through a colander into a scrupulously clean glass or ceramic bowl; contrary to your frugal desires, do not press on the pears to release more juice. (If you absolutely cannot resist, press them into a separate container and drink this cloudy stuff first.)
Filter the drained brandy through successive layers of cheesecloth (one layer first, two layers the next time, etc) until the mixture looks reasonably clear. Clean out your steeping jar — scrupulously, of course — and store the filtered liquid in it. Refrigerate, resisting the urge to pick up the jar and peek at it, at least overnight.
After resting the infusion, ladle the liquid through a coffee filter set into a small sieve; I complicate things by placing the filter + sieve contraption on top of a metal funnel, and draining everything directly into a large storage bottle. You may prefer to keep things simple by first straining into a bowl. (You know what kind and how clean, right?) You'll probably want to change filters at the end of each funnel-full of brandy; the microscopic pieces of pear that you're removing will clog the filter and slow process considerably if you re-use the filters, especially as you get to the bottom of your jar, where the sediment has collected. The more times you filter, the longer the brandy will last before developing 'off' flavors. I always re-filter when making smaller gift-sized bottles.
Once you get the brandy filtered, taste your final product. I found my batch to be quite drinkable right out of the bottle, but Cookie's pears were so ripe we had to cover them with a towel to keep the fruit flies at bay. If you prefer something sweeter, feel free to add simple syrup, agave syrup, or honey to taste.
I don't usually store my infusions in the refrigerator — alcohol acts as its own preservative — but pear brandy goes south more quickly than other fruit liqueurs. Unlike limoncello that will last virtually unchanged for a year or more, pear brandy experiences a noticeable loss of flavor by the third day. It will be delicious for weeks and drinkable for months, but it loses its evanescent crispness by the end of the first week. Enjoy it (or, better yet, share it) right away.