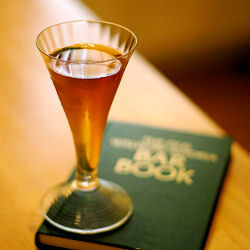 A few months ago, the New Yorker ran a 'briefly noted' blurb about Michael Lerner's book Dry Manhattan: Prohibition in New York City. The review's blasé tone must have dissuaded me from rushing out to buy a copy; instead, I patiently waited months for my chance to read our library's single circulating print.
Had I known what a compelling read Dry Manhattan would be, I probably would have spent 20 bucks for the luxury of getting my hands on it sooner. True, it's a bit scholarly, weighed down with inconvenient end-notes and a tendency toward expository repetition. But I can forgive the academic author's shortcomings, given how entertaining the final story becomes, even when you know the ending.
Despite his geographic focus on New York City, Lerner illuminates the entire era by throwing a cosmopolitan light on the social changes that led both to Prohibition and its eventual Repeal. Although the book steers clear of drawing any overt parallels to current politics, readers who possess even a passing familiarity with modern-day prohibition movements — foie gras bans and the war on medical cannabis come to mind — will recognize plenty of eerie echoes from 80 years past. The story here makes a stark reminder of how a vocal, conservative, puritan minority swept away the freedoms of an entire country as their city-dwelling counterparts complacently boasted "it can never happen here". Until it did… and it stayed that way for 13 long, dry years.
Honestly, it's enough to send you straight to the bar in search of a sedative.
Perusing my library for appropriate Prohibition-era cocktails to salve my nerves, I stumbled upon a drink called the Ampersand in the Old Waldorf-Astoria Bar Book. How could I help but love a drink named after my favorite typographical glyph? (I suppose I just outed myself as a font geek. So be it.) Plus, it just sounds like a winner: Gin, brandy, sweet vermouth, plus a pair of orange-scented grace notes… What's not to like?
But why "Ampersand"?
Although the compendium is rife with anecdotes — no great surprise, given that it was laid down by the hotel's official historian — the origins of this particular drink's name are lost to the mists of time. It's possible that the typographical moniker's a nod to Martini & Rossi, the still-popular Italian sweet vermouth, and one of the drink's key ingredients.
Whatever the namer's original intent, it seems particularly appropriate as cocktail bloggers around the world are celebrating both this month's Mixology Monday & this year's Repeal Day festivities next week. Wednesday evening, be sure to raise a glass of your favorite beverage in honor of those who fought the good fight in the 1930s, restoring the pursuit of mixological happiness to us all.
Ampersand
1 oz Old Tom gin (see note)
1 oz brandy
1 oz Italian sweet vermouth
2 dashes orange bitters
orange curaçao, to finish
In an ice-filled mixing glass, stir the gin, brandy, vermouth, and bitters until very cold. Strain into a chilled cocktail glass, then add two drops of curaçao.
Note: Old Tom was a sweetened gin of yore, a popular ingredient in many pre-Prohibition cocktail recipes. Although there are no ready sources for such a beast, fruit-derived gins such as G'vine are not bad stand-ins. Alternately, David Wondrich recommends slightly sweetened Plymouth or Junipero as acceptable substitutes; a drop or two of simple syrup seemed to do the trick in the Ampersand samples we tried. Given its lore, I suspect the original Old Tom gins were a fair deal harsher than anything on the shelves today, but we're going for delicious approximations here, rather than slavish authenticity.
My neighbor Erik (proprietor of Underhill Lounge) was kind enough to let us sample from his personal stash of Death's Door gin, a product that may be the closest modern Old Tom equivalent. Its flavor is noticeably sweet, a trait that the distillers assured Eric was intended rather than accidental. Alas, it's not widely available outside the upper Midwest, but we didn't find a drastic difference in mixed drinks made with Death's Door compared with those made from sweetened dry gins.