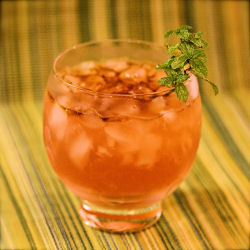 On our trip to L.A. last weekend, we found ourselves driving west down Sunset Boulevard. As we rumbled out of Silverlake and into the fringes of Hollywood, we passed a cheerless cinderblock bunker in the middle of a barren lot.
"Oh, look," I exclaimed, "It's the Tiki-Ti!"
"What's a Tiki-Ti?" Cameron asked.
"Oh, it's this goofy bar we used to go to in college. It's incredibly tiny and packed to the rafters with tropical crap."
Alas, it was only 3 in the afternoon, so we couldn't go in for a peek at the place I enjoyed some of my first drinks.
As dinnertime rolled around, we found ourselves strangely un-hungry. (Could it have been the massive plates of chicken and waffles we'd eaten for brunch?) Wanting to get out of the hotel but not yet ready for food, Cameron suggested we go for a cocktail. We ran down the short list of bar suggestions we'd gathered from friends and blog-buddies; nothing seemed appealing.
"Hey, I know: Let's go back to that tiki place," Cameron suggested. Hm, not a bad idea. It's nowhere near the restaurant, but this is Los Angeles… nobody thinks twice about driving 45 minutes to dinner, after all.
As we walked in the door at 6:30p, there was exactly one seat left at the Tiki-Ti's tiny bar. Just as I remembered, every surface was covered with float lights, tiki idols, and tropical kitsch. Behind the bar were two bartenders, working at a furious pace pouring brightly colored drinks for a festive group of customers. One of the regulars, an animated guy named Jim, welcomed us to the bar, quizzed us about the last time we'd been to the Tiki-Ti, and congratulated Cameron heartily when he heard this was his first visit.
"Tonight, you're a tiki virgin!" he shouted, with a hearty back-slap and a giggle.
We ordered the drinks we usually save for tropical vacations: A Painkiller for me, and a Mai Tai for the bald guy. We chatted with the bartenders, inspected the amazing decor, drank our drinks, thanked everyone for a good time, and headed off to dinner.
Back home the next week, I cracked open the copy of Sippin' Safari that I won in Kaiser Penguin's tiki cocktail photo contest, searching for a trustworthy Mai Tai recipe. Beachbum Berry's version looked interesting, although it certainly bore no resemblance to the fruity concoctions we've enjoyed in the islands. Imagine my amusement to discover that an old-school Mai Tai is really just a complicated daiquiri: No jumble of fruit juices, no bright tropical colors, and no goofball spirits… not even a pineapple wedge! It was a bit of a shock, but one I could easily digest — a well-made daiquiri is a thing of beauty.
But there was a bigger surprise awaiting me. Flipping to the index to look for possible mentions of the Tiki-Ti, I found neither a passing reference nor even a longer sidebar. In fact, the entire first section of the book was devoted to a man named Ray Buhen, one of the original Filipino back-bar "boys" at the legendary Don the Beachcomber — the world's first tiki bar. In the early 1960s, Ray opened the Tiki-Ti in the space that used to house his father-in-law's violin-repair store. He passed the torch to his son Michael and grandson Mike — the very same pair we'd met — when he retired in the late 90s.
Better yet, it turns out that this shoebox of a bar, which I'd naively assumed was an ironic hipster invention, was one of the vanguards of the Hollywood exotic-drinks craze at the height of its popularity. We had sat on the same stools that once propped up movie stars and millionaires, oblivious that our drinks were being made by the son and grandson of one of the original big kahunas.
Needless to say, it's entirely surreal to discover that one of your old haunts is a cocktail landmark of this magnitude. It's like finding out that your cousin is touring with Van Halen, or your next-door neighbor used to date Alice Waters. I've been chuckling to myself for the last couple of days, wondering what other legendary locations we're breezing by with no more than a passing glance, and how many other legends stand unnoticed in our midst.
—–
But back to that vintage Mai Tai recipe: It's a curious thing. It tastes delicious, but it looks a little wan if you're expecting a tropical icon. Adding a splash of good-quality grenadine — a fairly typical touch in most recipes — warms the drink's appearance, and the popular dark-rum float adds a whiff of warmer latitudes.
But hey, it's the weekend: Try it both ways, see which you prefer, and raise a toast to Hollywood's last great tiki bar.
Mai Tai
1 oz fresh lime juice
1 oz light rum
1 oz aged rum
1/2 oz orange curacao
1/4 oz orgeat syrup
1/4 oz falernum (or simple syrup)
splash of grenadine (optional)
dark rum
Shake all ingredients except the dark rum with ice, and strain into an old fashioned glass. Top up with crushed ice, float a bar-spoon of dark rum on top, if desired, and garnish with a sprig of mint.
One year ago: Cape Codder