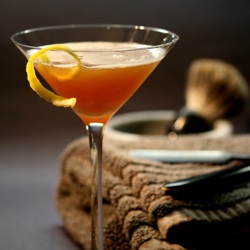 "The history of the world, my sweet;
Is who gets eaten and who gets to eat."
– Sweeney Todd
We're headed to the thyuh-tuh tonight for a performance of "Sweeney Todd: The Demon Barber of Fleet Street." Here's the short version: Crazy barber kills people, crazy restaurateur bakes them into meat pies, hilarity ensues.
I've loved the show since I first heard the music as an impressionable youth. How can you not like a musical with a showstopping number that muses about how different people would taste if you served them wrapped a tender, flaky crust?
While you digest that macabre notion, here's a little something to wash it down. We've tinkered with the recipe a tad, but the name and the basic ingredients are original.
Sweeney's Cocktail
1 1/2 oz brandy
1/2 oz pineapple juice
1/8 oz Maraschino liqueur (or to taste)
1/4 to 1/8 oz lemon juice
3 dashes Angostura bitters
Shake all ingredients well with ice. Strain into a chilled cocktail glass. Garnish with lemon twist, if desired.