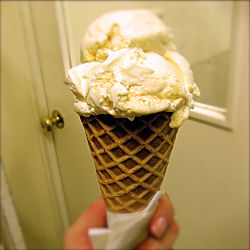 Sure, sure… we've all heard the swooning coming from the assembled masses lining up outside Bi-Rite Creamery. (And yes, we're in awe of their salt-caramel ice cream, just like everyone else.) But waaayyyy down at the other end of The Mission, there's another ice-cream shop that's packing them in every night, just like they have since the kids in line sported white bobby socks and greased hair.
Although the days when Mitchell's used milk from its own dairy farm are long gone, each flavor is still made on the premises in small-batch freezers. More than 50 state-fair ribbons and medals on the wall tell the story of the family's commitment to quality.
You won't find any honey-lavender or soy-chai scoops here, but that doesn't mean that Mitchell's doesn't get its gourmet groove on. The shop's biggest claim to fame may be its roster of tropical flavors, sporting tongue-twister names like langka, macapuno, and lucuma, alongside a longer list of 'standard' (but still interesting) tastes. Reading the menu's like a trip around the globe: Thai tea, Mexican chocolate, and New York Cherry are just three options. Feeling cocktailian? Rum raisin, Kahlua, and mojito might do the trick. A set of flavors rotates seasonally; peach holds court today, but pumpkin can't be far off.
Go ahead, take a number. You've got plenty of time to decide…
Mitchell's Ice Cream
688 San Jose Avenue (at 29th)
San Francisco, CA 94110
415 648-2300