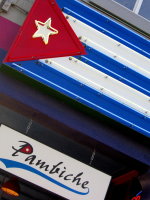 At Union the other night, Rocky overheard us talking about our Portland jaunt and immediately said "You have to go to Pambiche. It's the most awesome Cuban food." And then he reminded us again the next morning over breakfast. When the Rock tells you something's this good, twice, I advise you to listen.
With all the wedding goings-on, we weren't really sure if we'd be able to fit Pambiche into the agenda. Luckily, we timed it right: On our way out of the hotel, we checked the map and — sure enough — Pambiche is even en route to PDX. Sweet. They're also open from lunch straight through to late night. (There's a joke here about having your medianoche at medianoche, but I am too tired to pull off a bilingual pun.)
As we drive up Glisan, it's not difficult to find Pambiche. Even from blocks away, we spot the brightly-colored building and row of umbrellas covering the patio tables. Inside, the colorful chaos continues, with art and artifacts verging on kitsch covering nearly every surface. (Here's a link to the photos.) It smells impossibly good in here, and already I'm verging on sensory overload. We've been blessed with remarkably sunny weather all weekend, so I can only imagine what a wonderful touch of the tropics Pambiche would be during the depths of a Portland winter.
We scan the menu and find many familiar tastes: Ropa vieja, various plantains, beans of many colors. We need a little coaching through ordering a sampler appetizer plate called the Primera Vuelta — neither the menu nor our server does a very good job explaining how we choose which aperitivos and in what quantity.
In the end, we settle on the empanada de picadillo (spicy meat-hash turnover). and two each of the croquetas de papa y bacalao (potato and salt cod croquettes) and frituras de malanga (garlicky taro-root shreds formed into cakes and fried). They're attractively presented, served with remolacha (beet and watercress in sour-orange dressing) and ensalada caribiena (citrus cabbage slaw). Everything on the plate is delicious, although we both agree the empanada is the standout item, with the earthy beet salad a close runner-up. We dab on a bit of a house-made smoky chile sauce, brought to the table in a plastic squeeze bottle.
It's not even 5pm yet, and the place is filling up, with guests putting their names on a sign-in sheet and retreating to a set of benches along the sidewalk. While we wait for the rest of our food, we sip a pair of Limonadas de Guarapo, a cool concoction of fresh-squeeed lime and sugar-cane juices, served with a chunk of the cane to nibble. it's an acquired taste — Cameron likens the sour-sweet flavor to pickle juice — but it grows on you… and works well with the food.
Our entrees arrive hot on the heels of the appetizers, but we're not bothered. My Cuban Sandwich looks amazing: Pressed between a perfectly crunchy-soft roll, there's plenty of ham, roast pork and Swiss cheese, slathered with a mustardy spread and a tart pickle. It's served with a pile of tostones, a barely-sweet version of banana chips. Cameron's Plato Cubano features roast pork, white rice, and a cup of the best vegetarian black beans I've ever tasted. How do they get them so flavorful without meat? Man. Seeing an order of red beans go by on their way to another table, Cameron flags down our waitress and asks if he can have a cup of them, too. She's initially confused — "didn't you order black?" — but we set her straight, and the red beans arrive within minutes. And what a grand idea! They're even more amazing than the black ones, redolent with herbs, bacon, and other porky bits. After my first taste, I'm not even asking Cameron for another bite before grabbing the spoon. The beans alone are worth a trip.
We've been ogling an impressive display of traditional Cuban cakes and pastries all through our meal, but we haven't saved room. Their descriptions take up two whole pages of the menu, and they're glorious to behold but United waits for no man, Ah, next time… and there will be a next time.
Pambiche Cocina y Repostreria Cubana
2811 NE Glisan Avenue
Portland, OR 97232
530.233.0495