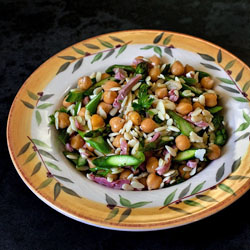 Now that the Dark Days are over, we're back in the kitchen, casting hungry eyes on spring's new crops. We've had asparagus at our markets now for more than a month, and we're gorging ourselves on it every week. It's making its way into every course but dessert!
For a recent brunch party with friends, I wanted to include asparagus on the menu — it's such a perfect spring flavor — but didn't really want to mess around with Hollandaise sauce, or any of the other prepped-to-order asparagus dishes in my repertoire. None of the recipes for asparagus salads I found really appealed to me, so I winged it, adding ingredients until I found a combination that looked as good as it tasted.
The recipe below was more than enough as a side dish for 8. Our guests took home some of the leftovers, and we still had enough for two lunch-size portions. So unless you've got a big group on hand, or you're serving it as a main course, a half batch should be more than sufficient.
Asparagus Salad
- serves 8 as a light meal, or 16 as a side dish
1 bunch medium asparagus
8oz orzo
1-1/2 cup matchstick-sized pieces of ham
2/3 cup extra-virgin olive oil
1 tsp finely grated fresh lemon zest
1/4 to 1/3 cup fresh lemon juice
1 tsp salt
1/2 tsp black pepper
3 cups cooked garbanzo beans, rinsed and drained
Parmesan cheese, broadly shaved with a peeler (1/2 cup)
1/3 cup chopped fresh flat-leaf parsley
Cut asparagus on the bias into 1/8-inch slices, discarding woody or tough ends. Cook the orzo al dente, then rinse in cool water to cool; drain well, shaking the colander to remove excess water.
In a wide skillet, bring oil, zest, juice, salt, and pepper to a simmer. Stir in the garbanzo beans, then remove from heat and let steep. When beans have cooled to near room temperature, place in a large bowl along with their dressing. Toss with the orzo, ham, Parmesan cheese, and parsley. Taste and adjust seasonings as needed. Serve at room temperature, or cold.
Note: As long as your ingredients are fresh and the pasta very well drained, the salad can be prepared up to 8 hours ahead with no loss of texture.