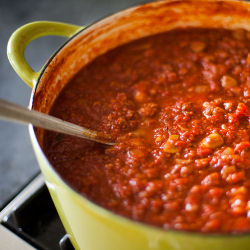 Michael Ruhlman ruffled a lot feathers when he called bullshit on people who can't find time to cook. To be sure, there are people out there making poor choices, watching hours of TV yet kvetching they can't put any energy into feeding themselves or their families. But leaving this (admittedly large) group aside for a moment, I also know there are many smart, thoughtful people who simply can't spend even an hour every day in the kitchen.
Take our household, as one example. I honestly don't think anyone could question our devotion to good food and home cooking. We go to the farmers market every damned week, even when it's pouring buckets. We grow a lot of our own produce, though it would be far simpler to buy it. And we preserve both our own harvest and foods we buy in season. We cure our own meats, from time to time. We spend whole days — whole weekends, even — focused on putting real food on our table, and sharing it with people we care about.
But even though I love nothing more than spending hours in the kitchen, the realities of my job and my life mean it's a luxury that I can't have all the time.
I know Ruhlman loves to stir the pot — and god love him for that, the world needs more agitators. I also know that his reality is different from mine, and probably yours: This is a man who works at home and devotes his professional life to food. His bread-baking is integrated into his bread-winning in a way that few of us could manage. But for many people, even his simple roast chicken is too much work. Hell, on some particularly craptacular nights, roast chicken is too much work for me. I'm not proud of that. But on the other hand, I don't beat myself up about it. As Cameron often says: "We eat better at home than most people do in restaurants." And I think that's true even when we're defrosting, reheating, and MacGyvering our way to the table.
We (by which I mean all of us who care about food, and health, and community) need to teach people to make good food in whatever time they have available, not heap scorn on those who think that 30-Minute Meals are the answer. I can make dinner — organic, local, balanced food — in 15 minutes if pressed. It may not be pretty, but it's real and it's delicious.
I've been cooking since I was old enough to reach the countertop, though, and a lot of what allows me to make those on-the-fly meals happen is the result of hard work at some point days or weeks earlier. Cooking on a daily basis requires planning. It also means relying not necessarily on convenience foods, but convenient food. It's equal parts planning ahead, stocking your larder, and knowing your limitations — things that can take years to master by trial and error. We shouldn't expect people to come straight to the kitchen knowing what they need to do.
I realize, as I write all this, that in a way I've been part of the problem.
I rarely mention, much less post, our quick-and-dirty weeknight meals. They're often less-than-photogenic specimens, and they're usually the sort of food you don't really need a recipe to make. When I do resort to posting something unglamorous, it's usually because I've signed on for a challenge, and the deadline is looming. I always feel odd, writing about a dinner that isn't picture perfect, because it feels like I am shortchanging my readers. But on the other hand, I think (hope!) you all realize that we don't eat beautiful food seven days a week.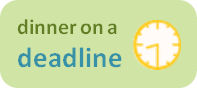 So here's my commitment: Every week, for the next 12 weeks, I'm going to write about a trick I use to get dinner on the table quickly. I'll also give you a little homework: Something simple enough that you can do it while your partner washes up after dinner, or in an hour or so on the weekend. And each post will include a recipe to show how to use the week's tip in a real-life setting, usually a tried-and-true supper we actually eat on a regular basis. I'll answer questions in the comments, and hopefully we can all learn from one another.
When I get to the bottom of my bag of tricks, I'll throw it open to you. We'll have a roundup event, where you can either use my tips to create your own weeknight meal, or post a time-saver of your own. By August, you'll know what I know, and you'll have put it into practice so you can riff on it yourself.
I may be preaching to the choir here; if you're reading this blog, you may be doing these things already. On the other hand, a quick straw poll of my food-loving pals tells me there's value in this exercise, even for the veterans. But fear not: I'll keep things simple enough that novice cooks will be able to put the tips to use, too.
So, who's with me: Who wants to play along?