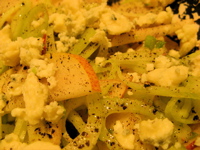 Not much of a story: We bought two baby fennel bulbs at the Ferry Plaza Farmers Market this weekend, with no definite plan for what to do with them. I decided a nice shaved-fennel salad would be a good, crisp foil for the cheesy softness of tonight's main course: the Baked Manicotti [* link removed] recipe from Cook's Illustrated. (I give it a B-minus, not that you asked.)
Cruising the aisles of Bristol Farms, I picked up a beautiful pear and a container of mild bleu cheese crumbles. When I got home, I sliced the pear and fennel as thin as I could — which was pretty thin, since we'd just gotten our big knife back from Critical Edge — tossed them with some Alejandro & Martin "fruity and fragrant" olive oil, half as much champagne vinegar as oil, salt, cracked pepper, and those bleu cheese crumbles.
If I do say so mahself, it was one of the best salads of the year. (OK, so the year's only 16 days old… it was still good enough that I wanted seconds.) We're eating pretty well down here in the basement!
Fennel-Pear-Bleu Salad
2 baby fennel bulbs, or 1 smallish regular fennel bulb
1 ripe, fragrant pear
2 tsp. fruity olive oil
1 tsp. Champagne vinegar or other mild-flavored vinegar
1/4 to 1/2 cup mild bleu cheese crumbles
salt and fresh-ground pepper to taste
Remove the fennel tops, and slice the bulb thin, on the bias. Halve the pear, remove the core, then halve again and slice thin. Toss the fennel, pear slices, and half of the cheese with the olive oil and vinegar, seasoning to taste with salt and pepper. Plate up, and garnish with the remaining cheese.
Serves 2
—
* Edited to add: We removed the link to the Cook's Illustrated manicotti recipe in July 2008 in protest of their bullying tactics.