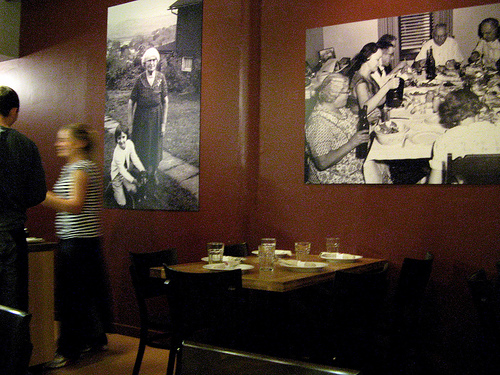 Not long ago, I waxed caustic about the dearth of decent pizza in San Francisco, and I pretty much threw the entire city under the bus. But someone somewhere must have been listening, because not long after I posted my rant, Gialina Pizzeria opened.
Chef Sharon Ardiana—whose resume includes stints at Sol y Luna, The Slow Club, and Lime, among others—has put together a very cute little pizzeria in a Glen Park storefront that used to house an unloved (and unmissed) business that served disks of dough topped with tomato sauce and whatever else came to hand.
We've been to Gialina a couple of times now, and I'm already looking forward to a return visit. The decor has been updated with lots of trés chic wood veneer and enormous black-and-white family photos from Chef Ardiana's childhood. The pictures could feel gimmicky, but they don't—they're simultaneously hilarious and homey. It feels like you've been invited to dinner with the relatives and close friends.
And, just as happily, the food is worthy. The pie dough is pulled into rough circles and passes the critical test of tasting good all by itself. The toppings are good… not mind-bending, but good. The salads have been felicitously composed, and we thoroughly enjoyed the antipasti platter that we ordered on our first visit. The ricotta cheesecake adequately fills the stomach slot labeled "cheesecake," and there's a Nutella dessert pizza that looked like a chocolate coma in the making.
A word (or, actually three) about the service: Friendly, welcoming, and as professional as anything that you're going to find in a neighborhood restaurant. Special bonus points: While you're waiting for a table, you can leave your cell phone number and bounce down to Glen Park Station (a proper old-school SF bar) for a drink and a quick game of liar's dice.
Welcome, Gialina. We've been waiting for you.
Gialina Pizzeria
2842 Diamond Street
San Francisco, CA 94131
415.239.8500