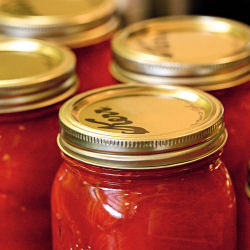 As summer fades into fall, I'm taking great comfort in our pantry full of canned tomatoes. Sometimes I just stand there with the doors open, gazing in at the luxury of summer's bounty — more than 40 quarts in all — hedged against the privations of winter's mealy produce. Bought from a local organic farmer at a seriously good price, these tomatoes were picked at their peak of ripeness and processed within 48 hours. Row upon row of jars sit in the cool larder, bright red orbs shining out of the darkness.
Gag-inducing, isn't it? But I must confess that the road all this unseemly self-congratulation was paved with dismal failure.
A few weekends ago, Cameron and I blanched and peeled 40 pounds of Mariquita Farms San Marzano tomatoes. Later in the day, Tea popped over to help us fill cases of quart-sized canning jars with our haul. Seven quarts at a time, we arranged our bounty into the shiny-new pressure canner, sealed the lid, and waited.
We've put up jams and preserves for many years, and pickles for at least the last five. But our first foray into the tomato realm was a rather limited success. Almost a third of the jars didn't develop a proper seal. Of those that did, half lost so much liquid that we feared they would spoil. (Reputable books tell us not to worry: the contents may darken, but they're safe to eat.) We toyed with the idea of re-processing the unsealed jars, but with no clue as to what had gone wrong and exhausted from a day on our feet, we decided that we'd had enough.
But the next morning, in what can only be described as a "when life gives you lemons" moment, I realized that we had everything on hand that we needed to make a giant batch of pasta sauce. I set the ingredients in a large kettle to simmer, and by bedtime we had dozens of quart-sized bags ready for the freezer. Surplus sauce will not be a problem. We eat our bastardized version of pasta Bolognese every Friday night, as it's the kind of meal that makes its way to the table with a minimum of fuss. Cameron can whip up a simple salad and a side of garlic bread while the pasta boils, while I pore over my recipe files to plan the next week's menu.
Determined to correct our mistakes (and unable to resist the siren song of ripe 'maters), we bought another three crates. That's 60 more pounds to make 100 pounds in all, for those of you keeping score at home. Guessing that our slightly lackadaisical jar-filling approach had been our undoing, we used a sterilized metal ruler to gauge the gap between the top of the tomatoes and the lip of each jar, ensuring that a half-inch of headspace — and not a millimeter more or less — remained.
Our measuring mania paid off: Not a failed seal in the batch, and a lot less liquid-loss, too. Now that we've got our technique dialed in, I can't wait until next summer to try it again. In the meantime, even our failures yielded some nice side benefits: Our freezer's overflowing with spaghetti sauce… probably just enough to last us through to next year's Early Girls.
Not-Really-Bolognese Pasta Sauce
2 to 2-1/2 pounds ground meat*
3 cups chopped onion
4 to 6 cloves garlic, minced
12 oz white mushrooms, sliced
1T olive oil
3 quarts home-canned whole tomatoes, undrained (or 3 cans Muir Glen whole peeled tomatoes, with their juice, cut into chunks with kitchen shears)
2 cups tomato sauce
6 oz tomato paste (1 small can)
1 bottle (750 ml) red wine
1T kosher salt
2T dried Italian herbs (we use a combination of 2 parts thyme, 1 part rosemary and 1 part oregano from our garden; if using fresh herbs, triple the amount)
3/4 cup finely chopped flat-leaf parsley
Fry the meat in a large stockpot, breaking up into very small pieces. Add the onion and sweat until soft. Meanwhile, sautee the sliced mushrooms with the olive oil in a separate pan over medium heat until liquid evaporates; do not add salt. When onion is soft, add the garlic to the meat and cook 2 minutes. Drain off most of the fat from the meat and add the mushrooms, tomatoes, salt, herbs, tomato sauce, and tomato paste. Rinse out the tomato cans or jars with the wine, and add to the pot.
Cook for 2 to 3 hours (depending on the amount of liquid in your tomatoes), or until thickened to a dense sauce-like consistency. Add the chopped parsley and remove from the heat. Chill over an ice-water bath to room temperature, then chill overnight if desired. Package in 2-cup quantities in quart-sized freezer bags, and freeze flat.
Each bag will contain enough sauce to coat a half-pound of cooked dried pasta in the American style, to serve 2 to 3. After reheating, we like to add a bit of the pasta water and/or a touch of cream to the sauce before tossing with the pasta, to help the texture recover from the freeze-thaw cycle.
* Our ratio is usually something like 1-1/2 pound ground chuck, 1/2 pound ground pork, and 2 Italian sausages.