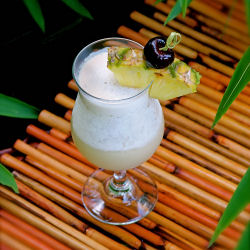 The piña colada enjoyed its 15 minutes of fame in 1979, long before the idea of cocktails really entered my brain. The reason: A pop song by one-hit-wonder Rupert Holmes called "Escape"… better known as "The Piña Colada Song".
Unfortunately, just like the song, most piña coladas are saccharine-sweet and filled with all kinds of nasty things you'd rather not think about. The list of ingredients on your average can of coconut creme — hydrogenated soybean oil? polysorbate 80? — is almost as gag-inducing as the idea of a married couple cruising the personals and accidentally answering one another's ads.
But, in the name of retro authenticity, we went ahead and tried it the usual way, with Coco Lopez and store-bought pineapple juice. We got one sip into our drinks before deciding that all we could taste was chemicals and cans, and dumping them down the drain.
We bought a coconut and briefly toyed with the idea of making our own cream. But, realistically, if we're not willing to go to such lengths to make a curry, why the hell would we do it for a cocktail? Thinking along these lines, we cracked a can of Thai coconut milk and skimmed off the cream, adding a little simple syrup for sweetness. Good idea, terrible outcome: The homemade version was unpalatably greasy, even after a spin in the blender. We gave up the idea and moved on to other drinks.
But when one of our favorite cocktail blogs decided to host a tiki cocktail contest, our thoughts returned to the unfinished experiment: the piña colada that we knew just had to be possible. We hunted high and low for chemical-free recipes, but every last one seemed to be in thrall to Señor Lopez and his additive-addled faux de coco.
During a stop at Trader Joe's last weekend, we stumbled on the perfect antidote right there in the freezer: An all-natural coconut sorbet. After a little research, we discovered that a handful of brands offer similar products, most with few adulterating ingredients beyond coconut and water and sugar. We tinkered with Gary Reagan's blended piña colada recipe to adjust for the natural products' sweetness or lack thereof. Different sorbets (not to mention different pineapples) will require your own good judgment, so think of the measurements below as a blueprint more than a hard-and-fast recipe.
Whatever your final mix, though, please promise me you'll steer clear of the personals.
Piña Colada au naturel
– makes two
1/2 pint coconut sorbet
1/2 cup pineapple chunks (fresh or frozen)
1 cup crushed ice
2 oz pineapple juice (preferably fresh or from frozen concentrate)
4 oz dark rum
pineapple (wedge, chunk, or spear), for garnish
maraschino cherries, for garnish
In a blender, combine all the ingredients except the rum, and blend until ice is well blended. Add the rum and pulse until well combined. Pour into two chilled hurricane glasses, and garnish with the pineapple wedge and cherry; paper parasols or plastic monkeys are, of course, optional but highly desired.