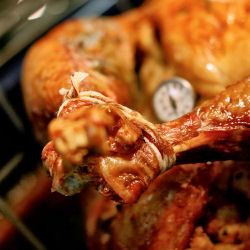 Come on, people, say it with me:
"Ugh, not turkey again!"
I know, I know — you're probably as sick of reading about turkey as I am of eating it right about now. But, alas, that's one of the perils of being the hostess: A house full of family and a fridge full of food seriously cuts into your blogging time. But now they're all on their way — the relatives to the airport, the leftovers to the freezer or compost bin — and I've got a moment to get caught up.
(And I promise if you stick with me to the end, there's a treat.)
I'd been noticing the steady disappearance of some of our autumn staples from the farmers market — bye-bye avocados, so long green beans — but at least when it came to our Thanksgiving feast, nearly everything came from within a 100-mile radius of home. As I wrote out my shopping list, I realized that I didn't have to eliminate many favorites, and it occurred to me that Thanksgiving may be one of the few times of the year that most Americans are eating seasonally. With the exception of the cranberries in the relish, the bowl of buttered corn niblets (which I zipped and froze a few months ago), and a bit of commercial flour, everything on our plates came fresh from the farm, ranch, or dairy just a few days before they were eaten.
Rather than list a page-long litany of producers and distances here, I decided to create a GoogleDocs spreadsheet. (Geek is the new black, they tell me.) I was so pleased that we inadvertently managed to do even better than usual for this one meal — our turkey was the only significant item that came from more than 100 miles away, although still very much inside our 200-mile protein foodshed. We also managed three other 99%-local meals this week: Lasagne served with beet and bleu cheese salad, pork chops with risotto and roasted cauliflower, and the ever-popular family tradition of a "(Not)-Spam and Eggs" holiday brunch.
—–
But enough about that; let's skip ahead to dessert.
Longtime readers may recall my earlier confession that neither Cameron nor I enjoy eating squash. Amusingly enough, this even extends to pumpkin pie… or at least it did until a few years ago. In deference to holidays guests — for whom Thanksgiving would not be complete without a slice of crusted Curcubita custard — I grabbed a handy recipe and whipped it up.
The recipe's unique twist was the use of pumpkin puree, rather than solid-pack squash, a tricky thing to find outside of health food stores in those days. (It's since become ubiquitous at Whole Foods and the like, so you shouldn't have to hunt.) My guests raved about the pie with such genuine eye-rolling pleasure that I reluctantly tried a small sliver. And wouldn't you know it: This pie, for some reason, had no trace of the abhorred squashiness, just a luscious, pumpkin-y goodness.
I suspect that there's something about the solid-pack processing that makes pumpkin especially gag-worthy, and that choosing puree keeps the texture light and the flavor fresh. This year, we steamed our own Sugar Pie pumpkins from Mariquita Farm, pureed the flesh, and used it in place of the canned variety. If anything, the result was even better than usual — a pumpkin pie that even squash-haters can love.
Classic Pumpkin Pie
single-crust pie dough, chilled 1 hour
(I use Martha's pate brisee, replacing half of the butter with home-rendered leaf lard)
1/2 cup granulated sugar
1/2 cup loosely packed brown sugar
1-1/2 tsp. ground cinnamon
1 tsp. ground nutmeg
1/2 tsp. table salt
2 large eggs
4 large egg whites
1 pound pumpkin puree, or a 15 oz can (not solid pack)
1 cup cream
1 tsp vanilla extract
Position rack in lower third of oven, and preheat to 425° F.
In a large bowl, whisk sugar, brown sugar, cinnamon, nutmeg, and salt. Add eggs and egg whites, and whisk until well blended. Add pumpkin, whisking until smooth, then cream and vanilla; continue whisking until well combined.
On a lightly floured surface, roll out the dough into an 12-inch circle. Drape dough over rolling pin and fit into a 9-inch pie pan. Fold edges under and crimp. Place crust on a baking sheet.
Pour filling into crust, and bake for 10 minutes. Reduce oven temperature to 325° F, and continue to bake 55 to 75 minutes more, until center barely jiggles when the pan is tapped. If needed, cover the crust with foil strips or a shield to prevent over-browning.
Transfer pie to a wire rack, and cool. If not serving within the hour, loosely cover and refrigerate. (The crust suffers slightly, but the filling is even better when chilled.)