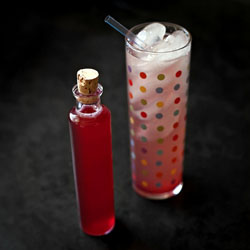 Rhubarb when raw is so tough
And its leaves contain poisonous stuff,
- But when cleaned and de-soiled
- Dipped in sugar and boiled
Then the stalks are quite tasty enough.
- — The Rhubarb Compendium
—-
This month's CanJam challenge — hosted by Toronto Tasting Notes — offers not one but two options for us to put up: Asparagus or rhubarb. Given that I'd used the former in last month's project (the theme was herbs, and I made tarragon asparagus pickles), my path was clear.
I know that some of my friends (including both of the people who I consider my pie gurus) will disown me when I admit this, but I'm not generally a fan of rhubarb's texture; I just can't tolerate the usual sliminess. I love its tart fruitiness, so I've learned a trick or two for keeping it firm in desserts, but canning it in a water bath — the whole point of the CanJam — would undo all of those careful preparations.
But there are a few preserves, like flavored syrups, where the pulp of the fruit (or vegetable, in this case) is strained out, leaving just the juice and its flavor behind. Best of all, syrups are simple to preserve, and they're a compact way to save the flavors of seasonal produce for enjoyment throughout the year. You can also freeze syrups, if — unlike me — you've got the space to safely stash a glass bottle.
You can use this flavored syrup any place a sweet-spicy-sour touch would be welcome, something as simple as brushing it onto a cake, or diluting it with sparkling water for a homemade soda. To my mind, its perfect use is making a pink variation on the venerable summer drink known as the Paloma (or even a virgin variation, sans tequila).
Rhubarb-Ginger Syrup
- makes 1 jar to keep, plus a little to use right away; can easily be doubled or tripled
1.5 cups white sugar
1 cup water
2 cups thick-sliced rhubarb stalks, leaves discarded
1 cup chopped ginger (no need to peel)
Prepare canner (or a saucepan deep enough to cover the jar by 3 inches), plus a small jam jar and its lid, according to the usual method; keep jar and lid hot until needed.
In a medium saucepan, bring the sugar and water to a simmer, stirring to dissolve. Add the rhubarb and ginger; return to a simmer, then reduce heat and let slowly bubble until the rhubarb is thoroughly soft. Remove from heat and let steep for 30 minutes. Meanwhile, line a metal strainer with cheesecloth, and place it over a heatproof bowl. (If you want crystal-clear syrup, use a muslin jelly bag and be prepared to wait for gravity to draw the liquid into the bowl; be careful not to press or squeeze the solids.)
Bring the strained syrup back to a simmer, then pour into the heated jar, leaving 1/2-inch headspace. Wipe rim and center lid on jar. Screw band to fingertip-tight.
Place jar in canner. Bring to a boil; process covered for 5 minutes. Remove lid, wait 5 minutes, then remove jar. Cool, check seal, and store in a cool, dark place.
—-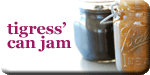 La Paloma Rosada
1.5 to 2oz blanco tequila
1/2 oz rhubarb-ginger syrup
grapefruit bitters
tart grapefruit soda (such as Izze Grapefruit)
Fill a Collins glass with ice. Add the tequila and syrup; fill with grapefruit soda, and give a good stir. Top the ice with a few shakes of bitters.