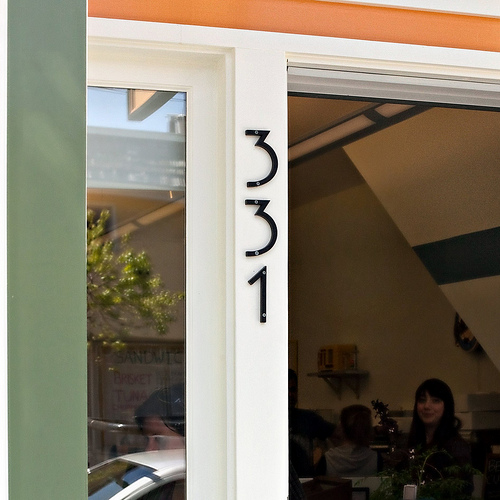 The newest addition to the ever-growing list of Bernal Heights culinary resources can be found at 331 Cortland, both the name and the address of a conglomeration of food-centric stalls in a single storefront. After longer-than-expected delays for construction and permitting — apparently, nobody in city hall knew quite how to handle a multi-unit setup under one roof — the six marketplace vendors held a soft opening today for their Bernal neighbors.
We stopped in around 3pm and found a good-sized crowd full of happy folks getting their afternoon snack on. Bernal Cutlery features Japanese whetstone knife sharpening, plus a beautiful assortment of knives both culinary and otherwise. El Porteño, a familiar vendor at many local farmers markets, carries their full line of sweet and savory Argentinian empanadas. Paulie's Pickling sells pickles, of course, as well as a rotating selection of sandwiches and deli salads.
On the other side of the shop, Wholesome Bakery features vegan and low-glycemic treats and breads. ICHI Lucky Cat Deli, the new home of ICHI's itinerant sushi-makers, offers nigiri, maki, and sashimi, as well as some specialty snacks (katsu-sando sliders, oh my!). In the front window, Della Terra Organics sells a pretty assortment of fresh produce from local farms.  Each of the vendors will set their own hours, but the marketplace as a whole plans to be open 7am to 7pm every day.
It's a plethora of options, and a welcome addition to the area. The new marketplace joins the small but quite comprehensive Good Life Grocery, the much-lauded Avedano's Meats down the block, and newcomer Sandbox Bakery at the other end of the Cortland shopping district. You can stroll a few blocks and pick up pretty much everything you need for a picnic in Holly Park, or a home-made dinner. Surprising as it seems, once-sleepy Bernal could actually become food-lover's shopping destination.
The Marketplace at 331 Cortland
331 Cortland Avenue (x Bennington)
San Francisco, CA 94110
@331Cortland on Twitter
http://ichisushi.com
415-822-4024
@ICHIsushi on Twitter
El Porteño Empanadas
http://www.elportenosf.com
415-357-3621
@ElPorteno on Twitter
Paulie's Pickling
http://www.pauliespickling.com
415-285-0800
@PauliesPickling on Twitter
Wholesome Bakery
http://www.wholesomebakery.com
415-343-5414
@wholesomebakery on Twitter
Bernal Cutlery
http://www.bernalcutlery.com
415-902-6531
@BernalCutlery on Twitter
Della Terra Organics
http://www.dtoproduce.com