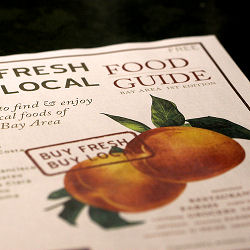 Here we are at the first week of summer, and I still haven't rolled out the Locavore Pantry page I promised you months ago. But despite my best intentions, WordPress is making the formatting way too difficult — and I want this to be a resource you can actually use, not just a mish-mash of names and locations.
In the meantime, don't forget that there's another great resource to help with your One Local Summer and other local-eating challenges: The Bay Area Local Food Guide. We swooned over last year's version, and I'm sure the 2008 edition will be even bigger and better.
If you want to be among the first to get your hands on a copy, join CAFF this Thursday evening, July JUNE 26, at the launch party out at Fort Mason Center. Your $30 ticket (click to purchase) gets you admission to the soirée, including plentiful food and wine tastings from some of the better-known guide participants — Chez Panisse, Serpentine, Murray Circle, Bi-Rite Creamery, Acme, Fra'Mani among many others — plus a local-food panel moderated by Bill Fujimoto of the legendary Monterey Market, and a delicious dessert.
Come out and meet some of the area's best farmers, restaurateurs, vintners, and food artisans all in one place, ready to answer your questions and provide samples of their favorite offerings.