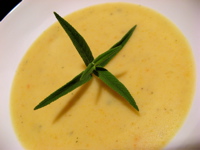 One of the farmers at the market this weekend was selling a big-ass bag-o-roots combo — turnips, parsnips, mostly, and also some gnarly carrots — so of course I couldn't pass that up. As I strolled the empty aisles, wondering how I would prepare my mess of veg, I remembered seeing a recipe for a creamy root vegetable soup in the market newsletter. Nobody seemed to be selling celery root, so I popped into Farm Fresh to You (after a stop at Miette, mais oui!) and picked up a knob. Mission accomplished!
With a minimum of chopping and sauteeing, and a little help from — don't hate me – chicken broth from a box, we had an incredible soup that left each of us scheming for ways to get all the leftovers for ourselves. I made a double batch, and froze half of the puree (omitting the creme fraiche, which I'll add when I thaw and reheat it), so the next batch will be even speedier.
Golden Vegetable Bisque
- adapted from Full Moon Feast by Jessica Prentice, via the CUESA newsletter
2 T fruity olive oil
1 small onion, sliced
1 small celery root (celeriac), peeled and cut into chunks
1 parsnip, cut into chunks
1 golden turnip, cut into chunks
1 carrot, cut into chunks
1 bay leaf
3 sprigs of fresh thyme
1 clove garlic, peeled and smashed
1 quart chicken stock, low-sodium chicken broth, or water
4 oz. creme fraiche (or other dairy, as you prefer)
1/8 tsp. freshly grated nutmeg
Salt and pepper to taste
Heat the oil in a medium-sized saucepan. Add the onions and sauté until tender. Add the vegetables one by one, sauteing each for a moment.
Add the stock to cover the vegetables by about half an inch. Add the herbs and garlic, cover, and bring to a boil. Reduce the heat and simmer, covered, until all is tender, about 25 minutes.
Remove the pot from the heat, and discard the bay leaf and the thyme stems. Puree the soup with an immersion blender (or in batches — carefully — in a standard blender). Add the creme fraiche, nutmeg, and a big pinch of pepper and salt. Taste the soup and adjust the seasoning. Feeling fancy? Try it with some Eatwell Farms rosemary salt.