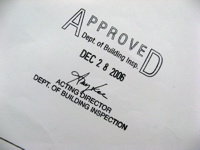 When Ilva of Lucullian Delights posted two photos of her kitchen, she struck a chord among food bloggers. Her comments filled up with notes from all over, with links to photos and posts. So, knowing a good thing when she sees one, Ilva turned her post into a meme, asking each of her fellow food bloggers to show her their own kitchen.
Which, ordinarily, would be a lot of fun. But at the moment, that's a little problematic. Because today I have three kitchens.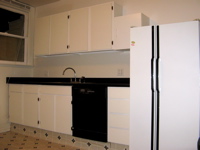 My first kitchen sits on the main floor of our house, in the usual spot for a 1920s American home. Last night, when I took this photo, it looked eerily empty. At the moment, it's slightly messier than I like it, given that our contractor and his crew came by today and tore out all of the appliances and cabinets, plus a good deal of the plaster. Since our debris box doesn't arrive until tomorrow morning, all of said debris is sitting in the middle of the floor. (OK, that's not entirely true — there's an even larger pile in the garage.)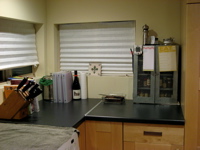 Downstairs, in the laundry room off of our guest quarters, we have a little combat kitchen that we'll use for the next 3 months. Once we realized how much storage space we had, we brought a lot more of our gadgets downstairs than we'd planned. (Upside: We have fewer boxes to unpack. Downside: We have a lot less excuse to eat out.) Other than the obvious lack of a stove, oven, and sink, and the fact that the fridge is in the garage, it's a surprisingly functional workspace. Of course, I say that now, not having put the whites in the toaster oven and the stew through the spin cycle… yet.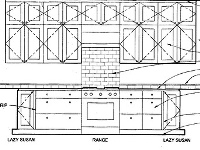 The third kitchen exists almost exclusively in the imagination of three people: Me, Cameron, and our architect. It's slowly taking shape in the minds of our contractor and his crew… but I don't think they inhabit it the way we do; not quite yet. But it's fun to see them peering in and figuring it out, talking through its geometry as they turn blueprints into walls.
But first, there's the dust, and the Dumpster. And the chaotic existence of having — if only for a day — three kitchens in one house.