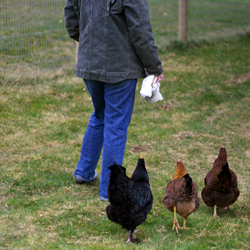 It's such a treat to travel around the country (and the world), enjoying all sorts of things that we don't get here in San Francisco, so we usually put our locavore ways on hiatus when we're on the road. Occasionally, we're able to enjoy the best of both worlds, either by visiting a restaurant where the chef sources his ingredients locally, or by shopping for local ingredients and cooking our own meal.
But during our Seattle trip over President's Day weekend, we did one better: We wrangled an invitation up to the (Not So) Urban Hennery for dinner with Laura and her husband Mike.
Despite a persistent drizzle that followed us up I-5 from the city, we arrived in Arlington with just enough sunlight left for a quick farm tour. We put on our boots and headed out to visit the hens. As soon as they saw us (or, really, Laura… she's definitely at the top of their pecking order!), the girls started up with such a symphony of cackles, chortles, and clucks that we couldn't help but laugh. They know that the bag in Laura's hand is full of kitchen scraps, and I suspect they have an idea that there's cracked corn on offer, too.
As the light waned, we watched Jake and Sam play in the yard as the chickens devoured the goodies Laura had brought them. (Talk about sustainability! Table scraps in, eggs out.) We talked about the plans for the rest of the acreage behind the house, admired Mike's new fence, and then retreated into the warm kitchen for a snack of local cheeses and a basket of homemade crackers, along with some locally produced hard cider.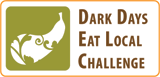 We gathered around the table in the stylishly cozy dining room for an all-local — and pretty much all-homegrown — supper of home-farmed chicken (naturally!) grilled to golden perfection by Mike, along with local wines, pan-braised purple carrots, and a stunning salad of garden spinach topped with local hazelnuts and dried cranberries. It was all delicious, but my favorite part was an amazingly simple potato gratin that showcased Laura's earthy home-grown potatoes.
The recipe — which Laura's adapted over the years from Nigel Slater's Appetite — calls for what the author rightly calls an "almost obscene quantity of cream". Laura says she's had relatives refuse to eat it after they watched her make it! But really, without any cheese or extra butter, it's probably not much more decadent than the gratin that you likely already call your favorite. The recipe serves 6 at least, maybe 8 (unless they're shameless potato gluttons like me).
Back home amid the rain and the beginnings of our spring-cleaning project, we decided to make a whole batch just for the two of us — they're that spectacular. "They're even better left over," says Laura, "Especially if you warm them back up in the oven with a bit of foil over the top."
Dreamy Potato Gratin
- adapted from Appetite
2 pounds potatoes (about 3 large)
1/2 medium onion (or a leek), sliced very thin
4 cloves garlic, minced
salt & pepper to taste
1 to 2 pints heavy cream, as needed*
Preheat the oven to 400°F.
Peel potatoes and slice thin (about 1/8-inch or 3mm). Toss with the sliced onion and minced garlic, and salt and pepper to taste. Layer the mixture in a well-buttered 9×9 pan and top with enough cream to come halfway up the top layer of potatoes but not submerge them completely. Sprinkle with a little more salt and pepper.
Put the baking pan on top of a rimmed cookie sheet as insurance against a huge oven mess in case of bubbling over. Bake in the preheated oven, pressing the potatoes down into the liquid when the cream starts to expand. At the 20-minute mark, press the potatoes into the cream again and reduce the oven temperature to 350°F.
When the gratin starts to color and smell good — about the hour mark — check the potatoes for doneness by inserting a knife into the center. Continue to bake until the potatoes are no longer at all crunchy but not yet mushy. If the top begins to get too brown, move the gratin to a lower rack and turn the temperature down to 300°F. When done, remove from the oven and let sit for a few minutes to allow the gratin to set.
* The quantity of cream needed will depend on how close you're able to get your potatoes to the 2-pound mark, how much potato you lose to peeling and trimming, and the exact dimensions of your pan. Laura's dish is closer to 10×10 and fairly deep, so she uses 2 whole pints. 1 pint was perfect in my standard 2-quart 9×9 pan.