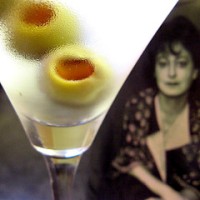 I like to have a martini,
Two at the very most.
After three I'm under the table,
After four I'm under my host.
Michael at A Dash of Bitters reminds us that tonight marks the 40th anniversary of Dorothy Parker's demise. She died not, as one would expect (and she might have preferred) from suicide or cirrhosis, but from a heart attack in old age. Her modern notoriety hinges on witty bon mots and wry verse, but in her heyday she was nothing short of a cultural icon, a woman who led trends and set tongues a-wagging.
Mrs. Parker found fame as Vanity Fair's drama critic, and later reviewed books for the New Yorker under the sobriquet "Constant Reader". She penned a pile of short stories, and her semi-autobiographical Big Blonde (although she was a dainty brunette) won the O. Henry prize for short fiction. Later, she and her second husband Alan Campbell became a sought-after Hollywood screenwriting team; the original, Oscar-winning A Star is Born topped their credits.
Although much of the Parker mystique hinges on her wisecracking party-girl persona, in fact she was a near-teetotaler for part of her life. In her twenties, she hardly drank at all. Her biographers tell us that she weathered the ironic excesses Prohibition better than many. One or two drinks a night would be plenty for her, in an era and milieu when an evening on the town typically started at sundown and lasted until breakfast at dawn.
As the years progress, the drinks get stiffer: Dottie's small beer on the bar beside her pal Robert Benchley's large Scotch, an Orange Blossom at the speakeasy, Manhattans at her country house, and, eventually, all-night parties fueled by pitcher after pitcher of Martinis (with no food!). Sweet misery — imagine the mornings after those night-befores:
Drink and dance and laugh and lie,
Love, the reeling midnight through,
For tomorrow we shall die!
(But, alas, we never do.)
In the Algonquin era, the Martini had not yet suffered from modern innovation. None of the Round Table denizens would have recognized the drink as anything other than a well-chilled mixture (always stirred, never shaken) of five or so parts gin to one part dry vermouth, and a dash of orange bitters. No gin, no Martini. If olives weren't at hand, a simple lemon twist could be substituted, but even this would be noted as a touch unorthodox. One can only imagine what the Vicious Circle would make of so-called Martinis of chocolate, sour apple, or (God forbid) vodka.
Martinis made in the classic style fell out of fashion through the years; some speculate that a lack of proper bitters hastened the drink's metamorphosis into little more than a bruising-cold glass of gin. Thankfully, renewed interest in classic cocktails means there's an abundance of delectable orange bitters to choose from today. Our house brand is Regan's, with a bottle of Hermes on hand as a pleasant alternative. But you're more likely to find Fee Brothers' in your local liquor establishment, and that will certainly do just fine. I daresay that once you try your Martini made this way, the modern rendition will seem rather flat and unappealing.
Now, what's stopping you? As Mr. Benchley would say: Get out of that wet coat and into a dry martini.







Classic Martini
1-1/2 oz gin
1/2 oz dry vermouth
1 dash orange bitters
Stir with ice, and strain into a chilled cocktail glass. Garnish with olives or a lemon twist.