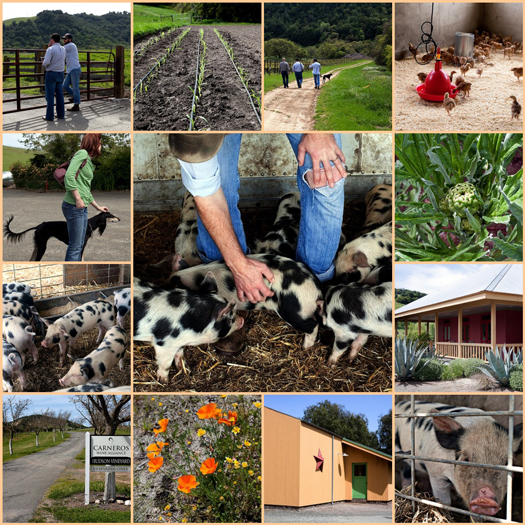 Last month, our friend Morgan Weber — who runs Revival Meats in Houston — came to town to talk shop with his Bay Area cohorts. He visited a who's-who list of our local charcuterie shops and sustainable butchers, hitting up Fatted Calf, Boccalone, Bi-Rite Market, Prather Ranch, and a number of other carnivore havens. I don't want to put words in anyone's mouth, but I think it's safe to say that one of the highlights of his trip was the Saturday afternoon spent at Hudson Ranch, a trip Morgan generously invited us to share.
Ranch manager Scott Boggs escorted us around Hudson's spread, showing us both their hog and poultry sites, as well as their CSA vegetable farm. Hudson is primary known as a winery — their wines are cult favorites — but Scott came on board 2007 specifically to manage the edibles at Hudson Ranch. A veteran of The French Laundry's garden operation as well as its kitchen, Scott brings true farm-to-table experience to the ranch; he understands what chefs want and need to see coming through the kitchen door.
We started our tour near the ranch offices, just off the main Carneros Highway. Our first stop — as Morgan was in town specifically to see them — was a pen full of dalmatian-spotted piglets, a litter born from an Old Spots sow mated to a boar of wilder heritage. Anyone with lingering doubts about how ethical meat can be would have been happy to see what we saw: A spacious, shaded pen with lots of room for piglets to play and plenty of room for their mama to move around (though she kept her snout in the trough during our whole visit), plus a view across to a beautiful lake and rolling hills beyond.
Down the road a piece, we got to peek in on a gaggle of chicks: babies in their boxes, and adolescents in their indoor roosts. By now, some of these birds are out on pasture, scratching away and fattening up for Chez Panisse and other local tables. A little further away, we trekked down a winding dirt road to check in on the CSA fields, where the first corn and tomato seedlings were already reaching for the sun.
We're lucky that we were already eating lots of Hudson Ranch-raised food, even before we had any idea who they were. Hudson Ranch supplies Fatted Calf with some of their pork and poultry. (They also sell chickens and game hens to many restaurants you'd recognize.) The pig from Cameron's birthday pig-roast last year was a Hudson, as were two of our last three Thanksgiving turkeys. Hudson also makes an award-winning olive oil, and they stock the produce shop at the Oxbow Public Market in Napa, in addition to supplying their CSA members' weekly produce boxes.
One of my new year's resolutions for 2010 was to eat more food grown by people we know. It wasn't just born from a desire to eat more local food — we're pretty much doing that all the time, now — but out of the realization that the closer we are to the source of our meals, the more satisfying they are for us. Even before last year, when we had the pleasure of picking our own tomatoes at Mariquita Farm, we were well acquainted with Julia, our Thursday night "casual CSA" farmer. And of course we had the privilege of helping Alexis and Eric after their devastating fire at Soul Food Farm, where our CSA chickens and eggs start out. We've toured Marin Sun Farms with Dave Evans, and seen where much of our beef, chicken, and pastured eggs come from.
Every time we open a quart jar of tomatoes, I'm reminded of the drive we took down to Watsonville and the morning we spent picking the very ripest Beefsteaks. When we enjoy a perfect omelette, a crisp roast chicken, or a plate of freshly dug new potatoes, we take a certain pride in knowing where it the ingredients came from, and in doing right by the food and the farmers who grew it. It may seem corny, but when we take a particularly delicious bite of food, we often thank the farmers, the ones who bring our daily feasts. I'm glad we can add Scott and his beautiful ranch to our roster of farmers we know.
Hudson Ranch
5398 Carneros Highway
Napa, California 94559
(by appointment only)
707-255-1455
http://www.hudsonia.com/hudson-ranch.html
@HudsonRanch on Twitter
—–
FTC disclaimers:
Morgan and Stacey Weber are friends of many years; Revival Meats is an editing client.
Hudson Ranch sent us a bottle of olive oil earlier this year as part of a media promotion.